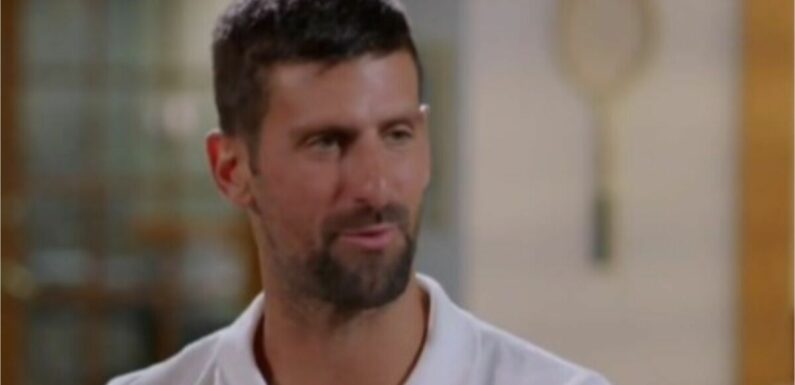 Halep given four-year ban from tennis over doping offences
Novak Djokovic has admitted that he felt that he was the 'bad guy of tennis' when breaking onto the scene due to the much-loved rivalry between Roger Federer and Rafael Nadal. The Serbian won the US Open for the fourth time last weekend when beating Daniil Medvedev in straight sets in the final and he has spoken candidly about his reputation in the game in comparison to his friendly rivals.
Djokovic's victory means that he has claimed an astonishing 24 Grand Slam titles throughout his career, equalling the record held by women's icon Margaret Court, and he will be hoping to make the record his own at the Australian Open in 2024.
The 36-year-old's rise to the top has not been without controversy, however, and Djokovic admits that he had to come to terms with being the bad guy when competing at the very top level.
He told tennis legend John McEnroe in an interview with ESPN: "The rivalry with Nadal and Federer, and I kind of put myself in the mix. In a way, for many years, I felt like there was no room for three so I had to deal with that.
Click here to join our WhatsApp community to be the first to receive breaking and exclusive tennis news
DON'T MISS Kyrgios blasts Halep with claim he'd have five Slams if he took 'similar things'[SOCIAL]
"But it's okay, at the end of the day I accepted that role I have as maybe the 'bad guy of tennis'."
Djokovic was overcome with emotion after his victory at Flushing Meadows, admitting that he is now playing out his 'childhood dream' having won three of the four Grand Slams this year.
McEnroe was full of praise for the Wimbledon runner-up following his US Open success, adding: "He (Djokovic) is one of the most remarkable athletes you will see in any sport in every way possible. The drive, the hunger, the will he still has after all his achievements is crazy.
We use your sign-up to provide content in ways you've consented to and to improve our understanding of you. This may include adverts from us and 3rd parties based on our understanding. You can unsubscribe at any time. More info
LATEST NEWS
Carlos Alcaraz called out by PETA for supporting the 'torturing of animals'[REACTION]
Wimbledon planning 'tennis Disneyland' with 38 courts but residents furious[LATEST]
Roger Federer admits 'crushing feeling' at Wimbledon after returning to SW19[NEWS]
"He is one in a billion. I love Roger (Federer), I idolised Rod Laver. I have the greatest respect for Rafa Nadal who gives more of an effort consistently.
"But this guy. I don't even know where to begin. You just have to admire him."
With Federer announcing his retirement in September 2022 and Nadal hinting that he will hang up his racket in the near future, Djokovic is set to be the last man standing of the 'Big Three'.
However, he does not intend on following the trend of leaving the sport anytime soon, revealing that he has no plans to retire whilst he is still competing at the highest level and winning tournaments year after year.
Source: Read Full Article