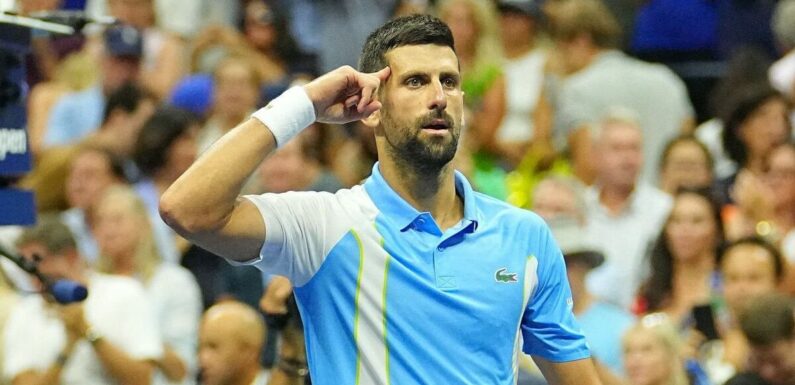 Novak Djokovic says he will 'keep going' after US Open win
The father of Ben Shelton has fired a broadside at Novak Djokovic after the US Open champion imitated his opponent's signature celebration after winning their semi-final at Flushing Meadows. Unseeded Shelton demonstrated his true potential in New York by reaching the final four of a Grand Slam for the first time in his career, before he fell at the penultimate hurdle to champion Djokovic.
The 20-year-old caused an upset by beating fellow American Frances Tiafoe in the quarterfinals 6-2, 3-6, 7-6, 6-2. After completing his dramatic four-set victory, Shelton celebrated by making a telephone shape with his hand before holding it to his ear.
But when returning world No. 1 Djokovic defeated Shelton in straight sets en route to the 10th US Open final of his career, the Serb copied his opponent's new celebration on the court straight after clinching match point.
That appeared to anger Shelton's father, Bryan Shelton, who told GQ Magazine: "He wanted to mock Ben at the end. It wasn't something he was doing just to copy Ben. It was to mock him."
Shelton Snr has played a key role in his son's rise as coach of the Florida Gators team, which helped Ben to win the national championship in 2021. He also clinched the NCAA men's singles title in 2022 while representing the Gators.
After beating Tiafoe, Shelton had explained to reporters that his phone celebration was his way of saying that he was 'dialled in'. He also claimed it was a tribute to his friend Grant Holloway who won his third consecutive 110-metre hurdles world title last month.
Despite the claims of Shelton's dad, Djokovic insists that his actions were paying a compliment to his quarter-final opponent.
Speaking in his post-match press conference, the 24-time Grand Slam champion said: "I just love Ben's celebration. I thought it was very original and I copied him. I stole his celebration."
Don't miss…
Djokovic opens up on being the 'bad guy of tennis' around Federer and Nadal[INSIGHT]
Andy Roddick hails Serena Williams successor after US Open success[VERDICT]
Scientist delivers results of private Halep test and throws ban into question[DEVELOPMENT]
We use your sign-up to provide content in ways you've consented to and to improve our understanding of you. This may include adverts from us and 3rd parties based on our understanding. You can unsubscribe at any time. More info
The imitation did not appear to ruffle Shelton himself too much. "I don't like when I'm on social media and I see people telling me how I can celebrate or can't celebrate," he told reporters, per the Los Angeles Times.
"I think if you win the match, you deserve to do whatever you want. As a kid growing up, I always learned that imitation is the sincerest form of flattery, so that's all I have to say about that."
But that view was not shared by his own father, who doubled down on his 'mocking' claim by adding: "That's too bad, for that to come from such a great champion."
Source: Read Full Article