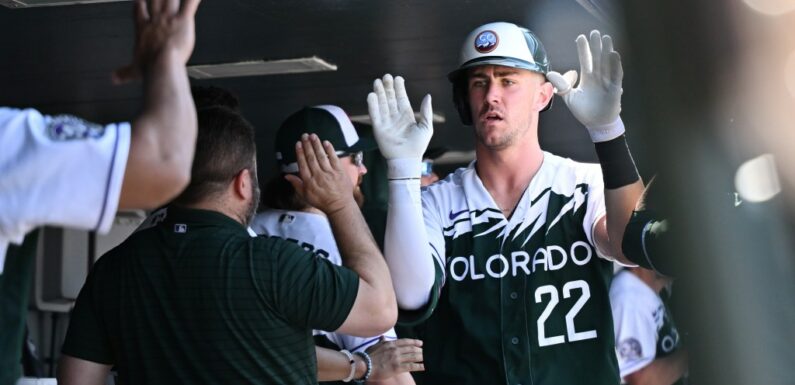 Bud Black's rationale for the Rockies' never-seen-before lineup in Wednesday's series finale against the Cubs was simple: He wanted to get his hottest hitters at the top of the order, even if that meant putting Nolan Jones in the leadoff spot.
Jones and the rest of the top half of the lineup delivered with four total homers in Colorado's 7-3 win over the Cubs at Coors Field that broke a six-series losing streak for the Rockies.
"Nolan's been swinging the bat well… (Kris Bryant), since he's been back (from injury), solid. (Elehuris) Montero, solid. (Ryan) McMahon, three hits today," Black said. "(The lineup) looked a little funky, but sometimes you've got to do that."
Jones' two-run bomb in the fifth inning changed the momentum of the game. The rookie left-fielder, making his second career start at leadoff, mashed Jameson Taillon's belt-high heater 452 feet to tie it 3-3.
Montero, Bryant and McMahon all went deep after that as Colorado tied a season high for homers. The Rockies also capitalized on a good outing from southpaw Ty Blach (five innings, three runs while working around traffic) and got a strong performance from the bullpen.
Rookie right-hander Gavin Hollowell tossed two shutout innings before Matt Koch got into a bases-loaded jam in the eighth. But right-hander Tyler Kinley got out of the jam with a couple pop-ups, and then shut the door with a scoreless ninth for the five-out save. It was Kinley's third save of 2023 and fourth of his career.
"That was the game right there — bases loaded, one out in the eighth," Black said. "(Right-hander Justin) Lawrence was available but we were trying to stay away from him. Kinley, a good, slow heartbeat and a veteran who has pitched in big games, he was the clear option."
Kinley lamented his blown save in the series opener on Monday, when he allowed two runs in the ninth as Chicago rallied for a 5-4 win, while emphasizing the importance of Wednesday's triumph for a young team that's still trying to find its identity.
"If I don't blow the game the first night, we sweep the Cubs," Kinley said. "So this is a great home series for us to come back and win following a tough road series (via a sweep in San Francisco)."
Montero's homer came after Jones' bomb in the fifth, and one pitch after Ian Happ's dropped flyball in deep left-center field gave Bryant a double and extended the inning on Taillon. After Montero's line drive barely cleared the left field fence, the Cubs were visibly dejected as Montero circled the bases and the Rockies claimed their first lead, 5-3.
It was only Montero's third time hitting cleanup this year, and he made it count. Montero extended his career-best on-base streak to 21 games with his seventh home run of the season, slashing .382/.463/.632 in that span, and is also riding a seven-game hit streak.
"I want to be the fourth hitter in a lineup, and I wanted to show (the Rockies coaches) that I could do it," Montero said.
In the seventh, Bryant made it a second straight game with a homer against his former team when he tagged Hayden Wesneski for a 397-foot shot to right-center that just cleared the Bridich Barrier and sailed into the Rockies' bullpen. Two batters later, McMahon drove a Drew Smyly pitch 389 feet above the out-of-town scoreboard to give Colorado more insurance at 7-3.
Next up: the Giants roll into Coors Field for a four-game series, one of three final chances for the Rockies to win their first divisional series this year. And with 17 games left, Colorado (53-92) needs to go 10-7 to avoid the first 100-loss season in franchise history.
"We're trying to build off this momentum," Black said. "We've gained momentum the last couple nights and we've swung the bats better… We need our offense to continue to pick it up. There's more offense in this group that pretty much hasn't been there all season, because of the lack of power, so today was good with the home runs and we've got to keep this going."
Thursday's pitching matchup
Giants RHP Logan Webb (10-12, 3.40 ERA) at Rockies RHP Chase Anderson (0-5, 6.49)
6:40 p.m. Thursday, Coors Field
TV: AT&T SportsNet
Radio: 850 AM/94.1 FM
Webb dominated in last Saturday's outing against the Rockies in San Francisco, tossing six shutout innings while allowing just three hits and a walk in the Giants' 9-1 win. It will be up to Anderson to play stopper against the G-Men for the little brother Rockies, who have lost eight of nine to San Francisco this year and are 6-22 against the orange-and-black dating back to last season. Anderson got hit around in last weekend's matchup opposite Webb, yielding six runs in three-plus innings. He's given up three bombs across his last two outings. Out of his last 10 starts, only one of them has been quality.
Pitching probables
Friday: Giants TBA at Rockies RHP Peter Lambert (3-7, 5.36), 6:40 p.m., ATTRM
Saturday: Giants RHP Alex Cobb (7-6, 3.62) at Rockies LHP Kyle Freeland (6-14, 5.07), 6:10 p.m., ATTRM
Sunday: Giants TBA at Rockies RHP Chris Flexen (1-3, 6.75), 1:10 p.m., ATTRM
Want more Rockies news? Sign up for the Rockies Insider to get all our MLB analysis.
Source: Read Full Article