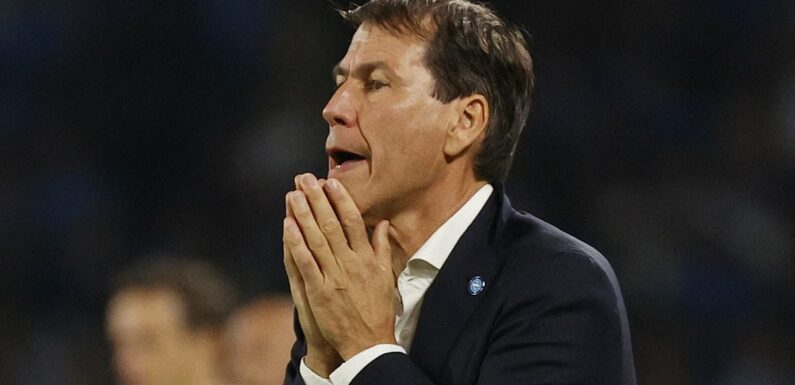 ALVISE CAGNAZZO: Rudi Garcia has damaged Napoli by bringing tension and making it clear that no player is irreplaceable… Antonio Conte is their No 1 choice to succeed him but his fiery style could cause an explosion
Napoli are struggling this season and manager Rudi Garcia looks set to be axed 
Antonio Conte could replace him but his passion might not mix with the team 
Listen to the latest episode of Mail Sport's podcast 'It's All Kicking Off!' 
Napoli chief Aurelio De Laurentiis is ready to hire a new coach – just months after bringing in Rudi Garcia – seeking a manager who can bring more technical prowess to the struggling Serie A team.
The club president made a mistake in appointing Garcia but he still has many merits. He deserves credit for refusing to dismantle the team that won the Scudetto last season – keeping Victor Osimhen, Stanislav Lobotka and Khvicha Kvaratskhelia – and losing only Kim Min-jae to Bayern Munich. 
But while Napoli have managed to keep the same spine that earned them success, Garcia has failed to build on the wonderful years under his predecessor Luciano Spalletti and has instead established an environment where none of the top players feel irreplaceable. That has created tension in the dressing room.
This week De Laurentiis admitted that Garcia was not the coach at the top of his wishlist and that he was having a 'bad time' with him – insisting he needed to make an 'appropriate decision' over his future. 
'I am having a bad time with him,' he admitted. 'I am an entrepreneur and I must be interested in what happens inside the company. The coach and the sports director are at your service. 
There is no doubt that Napoli made the wrong choice in hiring Rudi Garcia, who has brought tension to the club
President Aurelio De Laurentiis hinted he could sack Garcia, who he is having a 'bad time with'
The side that won the Scudetto under Luciano Spalletti last term have won only four times in Serie A this season
Your browser does not support iframes.
'I will make appropriate decisions at the right time. The environment can't influence me, one must always take time to think. 
'Every hasty decision is a wrong decision. In life, it's not possible to have everything here and now. It is necessary to keep our heads down and work hard.
'When you hire a coach who no longer knows Italian football, it's normal to struggle, the same would have happened to everyone.'
'Rudi Garcia wasn't the only one I spoke to. I heard from Thiago Motta, but he didn't want to replace a coach who did what he did. I called Luis Enrique and thank goodness he went to France, look at the results he is achieving.'
TOO MANY PROBLEMS AND TOO FEW JOYS SINCE THE SCUDETTO
It's no easy task to win the Scudetto twice – especially in Italy – even though Juventus managed the feat for nine straight years. 
Despite that, Napoli appeared to be the favourites to take home the crown again at the start of the season having kept almost all their best players and signed impressive new ones. But the decision to hire a coach who left Europe for Saudi Arabia before being sacked by Al-Nassr earlier this year is one that puzzles most.
There have also been concerns in the dressing room – with the club facing pressure over its bizarre TikTok video appearing to mock Osimhen over a missed penalty against Bologna last month. That incident is the biggest example of the tension among the players since their Serie A triumph last season.
Osimhen's situation is a difficult one to manage because he loves Naples as a city as well as the club, but it looks unlikely he would renew his contract. This could be his final season in Italy and Chelsea, Real Madrid, Man United, PSG and Newcastle are all following him with interest. 
Napoli are struggling to find their footing just months on from winning a famous Scudetto
CONTE'S FIERY STYLE COULD CAUSE AN EXPLOSION AT NAPOLI
Antonio Conte has emerged as a front-runner to replace Garcia at Napoli and for sure he is an extraordinary coach who lives and breathes football 24 hours a day.
He is Napoli's preferred choice to take over by De Laurentiis and the board of directors in the event of Garcia's dismissal – and in Conte's head and heart, the temptation to return to the dugout in Naples is very strong.
Conte's failed experience at Tottenham left a huge mark on him – as did the loss of his close friend Giampiere Ventrone, his former fitness coach at Spurs – and a return to Serie A seems to be the best solution for him. 
However, Conte's identity as a 'Juventus' man could bring problems. Even though he spent two seasons with Inter, he is still seen as having 'Juventinity'. His family are based in Turin, which is a 90-minute flight away from Naples, and there could be a issue with adapting to life at Napoli. 
Conte is a fiery character and there are concerns over whether he would be a right fit at Napoli side full of passionate players. It would be like lighting a match in a dressing room full of petrol – it could explode at any moment. 
Antonio Conte is Napoli's top choice to succeed Garcia but there are over doubts about whether it would be a good pairing
Conte is still seen as a Juventus man while his fiery style may not mix with the Napoli players
The ex-Tottenham and Chelsea boss, who refuses to listen to anyone else's advice, saw how Carlo Ancelotti struggled at Napoli and he is fearful of making the wrong choices in his coaching career – fearing he will end up down the same path as Jose Mourinho, who reportedly now faces pressure at Roma.  
Napoli could be an opportunity for Conte to relaunch his career – but there is the risk of the club becoming another wrong move for him after Tottenham.
The club have an abundance of wingers and a host of full-backs too – but that might not work with Conte's preferred formation of 3-5-2. Should Conte deploy that system, it would risk wrecking the great work done in the transfer market after many million spent on players in recent years.
Jesper Lindstrom is a great example. He arrived at Napoli for around £25m and is a fantastic player but under Conte the only time he would see the pitch is on the bench holding a pair of binoculars. Alessio Zerbin, Giovanni Simeone and Gianluca Gaetano would have similar problems.  
Meanwhile, Matteo Politano and Kvaratskhelia do not have the pace nor the physical strength to play in the attack wing-back role that Conte deploys so often. This tactical nightmare would create many problems for a team that needs as many points as possible to return to the top of the table.  
DEFENCE WAS ONCE NAPOLI'S BIGGEST WEAPON, NOW IT'S THEIR BIGGEST WEAKNESS
There are no longer any doubts that the club made a wrong choice to bring in Garcia with the players' discontent after each substitution summing up the damage he has done in recent months.
But he is not the only person to blame for the mess at Napoli – their weak defence is something he cannot fix alone. 
One of Napoli's greatest strengths was once their defence – now it is a huge weakness
Without Kim, the attitude of the rest of the squad has changed. The defenders have lost a leader and are now struggling to fill his shoes. The South Korean was very quick and his departure to the Bundesliga has left the backline lacking pace.
Now, Napoli's defence are missing players capable of running back and covering the hole left behind by their team-mates. Full-back Mario Rui is a very intelligent player but he is being poorly utilised at present. 
Mathias Olivera, meanwhile, does not look strong enough to be a starter in a team that transitions quickly. His style of play leaves too much space in behind for opposition attackers.
Napoli have conceded six goals in their last two games – an embarrassing figure which reveals a heap of issues at the back. This is a very worrying time given that defensive solidity was once one of the team's best weapons under Spalletti.
IT'S ALL KICKING OFF! 
It's All Kicking Off is an exciting new podcast from Mail Sport that promises a different take on Premier League football, launching with a preview show today and every week this season.
It is available on MailOnline, Mail+, YouTube , Apple Music and Spotify
Your browser does not support iframes.
Source: Read Full Article