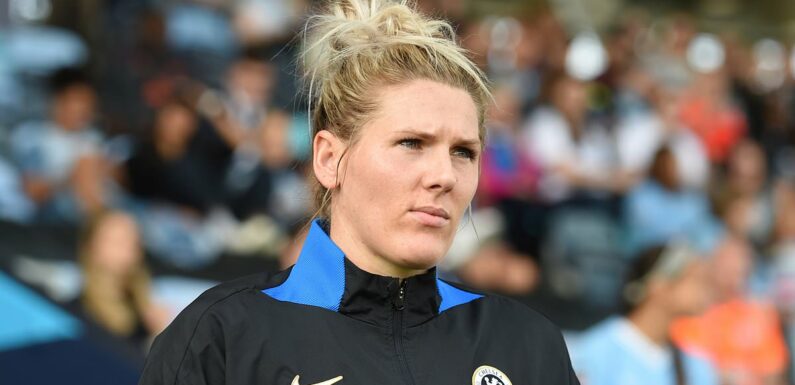 AHEAD OF THE GAME: American investors want to buy into the Women's Super League, with Premier League clubs refusing to provide the £25m start-up costs for next season's planned relaunch
The Women's Super League is planning a relaunch for the 2024-35 campaign
American investors have shown interest in buying into the league
Listen to the latest episode of Mail Sport's podcast 'It's All Kicking Off!'
The FA have received offers from American private equity firms who want to buy into the Women's Super League ahead of a planned relaunch next season.
Mail Sport revealed last month that the launch of an enhanced top flight for the start of the 2024-25 season is under threat as the Premier League clubs are refusing to provide the £25million start-up costs. 
A number of US investors are understood to have expressed interest in buying into the WSL for a 10-year period as they are convinced it will deliver significant growth.
The FA's preferred model remains for the clubs to take control, but they are running out of time to agree a deal.
American investors are interested in buying into the WSL ahead of next season's planned relaunch
Your browser does not support iframes.
NFL happy with Spurs' pitch 
Tottenham have received reassurances from the NFL that they are happy with facilities at the football stadium ahead of Sunday's clash between the Tennessee Titans and Baltimore Ravens. 
Several Buffalo Bills players complained about the 'terrible' condition of the artificial turf surface at the ground following their defeat by Jacksonville Jaguars last weekend, which they blamed for several injuries they suffered, echoing criticism made after NFL games staged at Tottenham 12 months ago. 
However, Tottenham have already upgraded the NFL field since it was installed four years ago. The NFL are committed to staging at least two regular-season games at Tottenham until 2029, a contract that is not under threat.
The NFL are happy with the pitch at the Tottenham Hotspur Stadium ahead of this weekend's game 
DAZN's TV battle with Amazon 
Streaming service DAZN are expected to target the Premier League matches currently owned by Amazon Prime in the auction for live rights taking place over the next few months. 
The Premier League are understood to be offering an expanded fifth package of games, which will include several complete midweek rounds as well as Sunday matches featuring clubs involved in the Europa League. 
Amazon pay about £90m-a-year for two match-rounds, but as Mail Sport revealed during the summer, all Sunday games will be televised for the first time from 2025. 
DAZN view the expanded Amazon pack as more attainable than the primetime Saturday and Sunday packages, which are expected to be retained by Sky Sports and TNT Sports.
Son's love for mic goes viral 
The video of Son Heung-min taking immense care in placing the microphone down after he was interviewed on the pitch following Tottenham's 1-0 win at Luton last Saturday has smashed all of TNT Sports' viewing records on social media. 
The nine-second clip has been viewed more than 15 million times across TNT's social channels this week, eclipsing previous bests such as Rio Ferdinand nutmegging Laura Woods on the pitch at the Bernabeu earlier this season. 
TNT Sports viewers wanting access to such clips will need to download the discovery+ app, as the BT Sport app was closed earlier this week.
Son Heung-min carefully placing down the microphone after being interviewed following Tottenham's win against Luton has gone viral
IT'S ALL KICKING OFF! 
It's All Kicking Off is an exciting new podcast from Mail Sport that promises a different take on Premier League football.
It is available on MailOnline, Mail+, YouTube, Apple Music and Spotify.
Your browser does not support iframes.
Source: Read Full Article