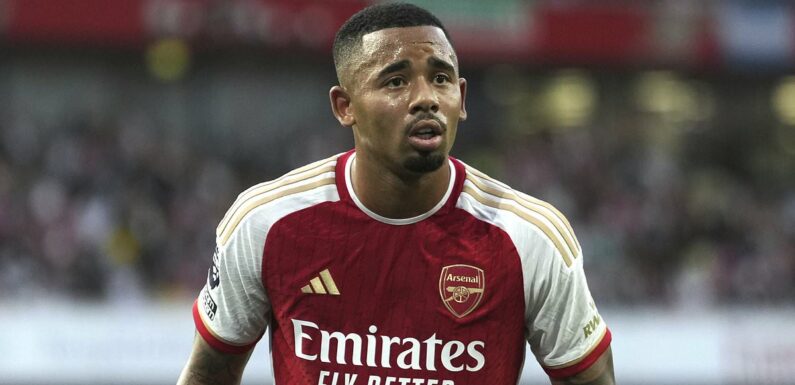 Gabriel Jesus reveals details behind bust-up with former team-mate Ederson in Arsenal's 1-0 win over Man City… as Brazilian star claims he was 'pushed' by goalkeeper
Gabriel Jesus and Ederson clashed during the recent Premier League encounter 
The Arsenal striker has revealed the details, and the aftermath, of the incident 
Listen to the latest episode of Mail Sport's podcast 'It's All Kicking Off!' 
Arsenal striker Gabriel Jesus has revealed what happened in his bust-up with Man City goalkeeper Ederson in their recent Premier League match. 
The Gunners triumphed 1-0 on the day thanks to Gabriel Martinelli's late, deflected goal that left the City keeper stranded on the wrong side of the net. 
Despite Arsenal's impressive victory, one of the main talking points from the afternoon was the post-match bust-up between Kyle Walker and the Arsenal staff.
Some fans were also quick to point out a, relatively small, bust-up between former team-mates Jesus and Ederson in the final moments of the match. 
The incident occurred in stoppage time as the Arsenal striker held off City defenders by their corner flag before conceding a foul. 
Former team-mates Gabriel Jesus and Ederson clashed during Arsenal's win over Man City
Arsenal striker Jesus has now revealed the details behind the clash between the two players
Your browser does not support iframes.
After the whistle was blown, Jesus proceeded to kick the ball away before Ederson came steaming in and bundled his compatriot to the floor. 
Both players received a caution from the referee and now the Arsenal star has revealed the full details of their bust-up. 
He told a press conference: 'I have a good relationship, not just with Ederson. But on the pitch it's normal.
'Ederson and I spent a lot of time together at City and we were very happy. He knows how fond I am of him and I also know how fond he is of me.
'But on the pitch he defends his team and I defend mine. It was a moment when we were winning and it's not easy to beat them.
'We were winning and I held the ball there. Anyway, he ended up giving me a push, but afterwards everything was normal. We came together talking. That's it.'
The main talking point from the match, however, was the clash between Walker and Arsenal coach Nicolas Jover. 
Ederson and Gabriel Jesus spent five years together playing in sky blue for Manchester City
The England defender was captured squaring up to set-piece coach Nicolas Jover after he offered Walker a handshake that was rebuffed following Man City's 1-0 defeat.
Walker's team-mate Erling Haaland intervened as tensions boiled over between the two sides, as did Emirates security, but the fracas continued as the England international was escorted down the tunnel. 
It later emerged the incident was a result of Manchester City 's agitation at the Arsenal coach's behaviour last season.
Mail Sport understands that Jover's refusal to shake hands with City stars after last year's two league fixtures – both of which Arsenal lost – was seen as disrespectful by the champions. 
IT'S ALL KICKING OFF! 
It's All Kicking Off is an exciting new podcast from Mail Sport that promises a different take on Premier League football, launching with a preview show today and every week this season.
It is available on MailOnline, Mail+, YouTube , Apple Music and Spotify
Your browser does not support iframes.

Source: Read Full Article