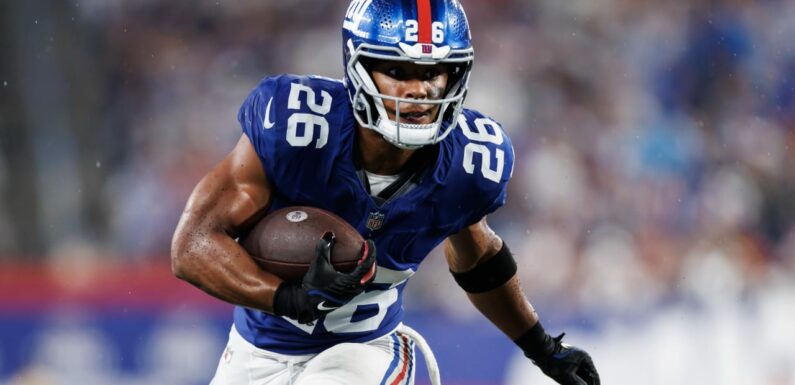 Saquon Barkley has made it clear. He doesn't want the New York Giants to deal him prior to the NFL's trade deadline.
"Sitting here, everyone knows how I feel," Barkley said on Thursday, via team transcript. "Everyone knows I don't want to get traded.
"I don't think anybody in their right mind would want to get traded anywhere. It's not an easy thing to do, you've got to move, I have a family. I would love to be here but like I said, it's not in my control. My focus is to be the leader I can be for this team to try to get this thing on the right track."
Barkley knows the reality. General manager Joe Schoen and the Giants' front office will make the final say on player transactions. And at 1-5, the Giants at least outwardly fit the mold of a team that could consider moving assets prior to the Oct. 31 trade deadline.
"I can't control that," Barkley said. "It's not like I'm able to make any decisions or have any say in that. The only thing that I have is the way I show up to work and the way I go out there and compete. (Those are) the things that I can control."
Related Links
Week 7 NFL picks: Jaguars or Saints on Thursday night? Dolphins or Eagles in epic Sunday clash?
Giants QB Tyrod Taylor takes blame for end-of-half blunder in loss to Bills
Buyers/sellers at 2023 NFL trade deadline: Will Chiefs target WR? Should Titans deal Derrick Henry?
But there's also the matter of Barkley's contract. He'll be a free agent once again after the season, as Barkley signed a one-year extension in July. The Giants previously placed the franchise tag on the Pro Bowl running back, who hoped for a long-term extension.
That still could happen, even as Barkley hasn't had a season in 2023 like he did a year ago. In 2022, Barkley started 16 games and totaled 1,650 yards from scrimmage and 10 touchdowns. This season, he's been limited to three games due to an ankle injury, although Barkley returned from a three-game absence Monday to run for a season-high 93 yards against the Bills.
Barkley said his attention isn't on the looming trade deadline — it's on the Giants' Week 7 opponent the Washington Commanders.
"My focus is Washington, trying to come back and get a win," Barkley said. "Obviously, I'm happy that I'm healthy again, (to) be able to get back on the field. Got close to a win last week, now just got to try to continue to improve and try to get a win."
In August, Barkley said he still wanted to be a Giant for life. He's not backing down from that now and isn't thinking about the possibility that the decision isn't entirely his.
"It never crossed my mind," Barkley said. "Obviously, I've been public and vocal about how I feel about this organization and where I want to be. But like I said, knowing the business and seeing that side of it, there are a lot of things that I can't control."
Source: Read Full Article