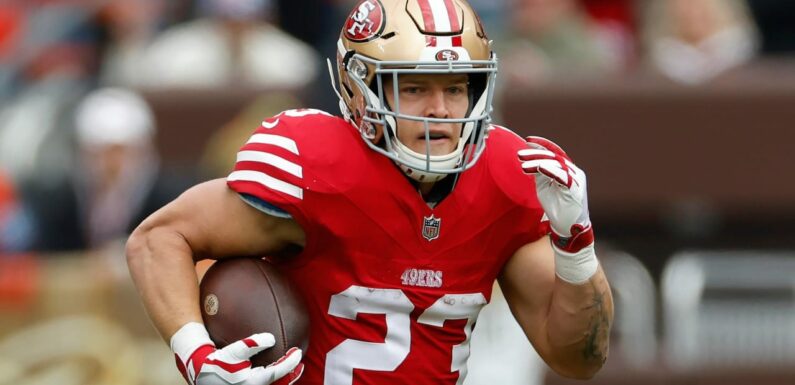 San Francisco 49ers running back Christian McCaffrey is dealing with an oblique injury that jeopardizes his availability for Week 7. Given the star RB's injury history before joining San Francisco, the workload question was bound to pop up.
Through six games — including Sunday's loss in Cleveland, which he exited early — McCaffrey has generated 110 carries and 23 catches, a 22.17 touch-per-game average. Extrapolated over 17 games, CMC's pace would put him at 377 touches for the season.
Shanahan was asked Thursday if McCaffrey's current workload is sustainable.
"I mean, we treat him as our starting running back," the coach responded. "So, I don't really think of how many touches we want to get somebody in a year, that's week-to-week and how the game goes. But he gets a lot more extra because he gets thrown to so much in the passing game. I'm happy with how he's being used. I'm happy with how he's been playing, and we'll see how the rest of the year goes."
Related Links
Week 7 NFL picks: Can Eagles stop Dolphins? Justin Herbert-Patrick Mahomes winner? Lions or Ravens?
Top 10 off-ball linebackers entering Week 7 of 2023 NFL season: Ravens, Jets each boast two selections
NFL trade deadline: Tracking every move since start of the 2023 regular season
McCaffrey is no stranger to heavy workloads. During his 1,000/1,000 campaign of 2019, the running back touched the rock 403 times. As Shanahan noted, that a significant portion of CMC's touches come as a receiver helps mitigate some of the wear and tear. The running back has never had 300 carries in a season for his career (high of 287 in 2019).
McCaffrey has played 23 straight regular-season games since the start of the 2022 season after missing 23 games from 2020-21 with the Panthers.
The running back didn't participate in Thursday's practice (the first of the week for the 49ers with a Monday night game against Minnesota), which isn't highly unusual for CMC. Shanahan called the RB "day to day" following an MRI. Whether he practices on Friday will provide a better indication of the RB's availability for Monday night.
Friday marks exactly one year since the 49ers traded for McCaffrey. Shanahan was asked Thursday what the back has meant for San Francisco since the acquisition.
"Just a ton," he responded. "I mean, just how good he has been from what you guys have seen, how dependable he has been, how reliable he has been, how he learns everything, not just the running backs and stuff. So, it's real easy to put a lot on his plate, move him around each week. I think just the example he sets for everybody and the guy is, I mean, he reminds me of just a basic mentality, like a walk-on guy, who's just trying to get people's attention for working so hard. He is one of the most talented guys in the league and was in college coming out and every single play it's like the biggest thing in the world, whether he is getting the ball or not. It's a really great example of how to be as a football player."
Source: Read Full Article