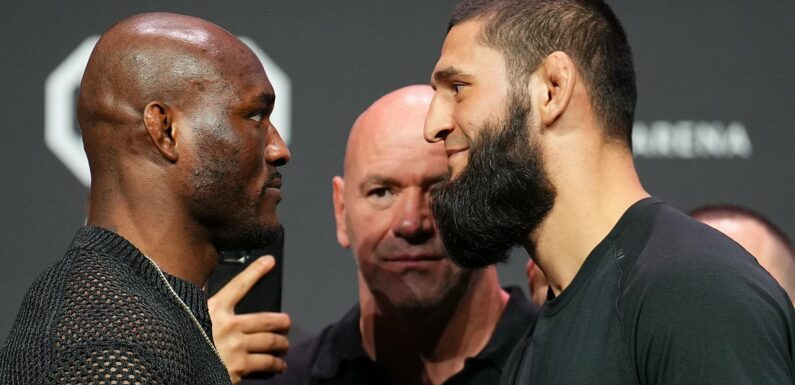 Khamzat Chimaev issues chilling warning to Kamaru Usman at UFC 294 pre-fight press conference ahead of co-main event in Abu Dhabi
Kamaru Usman given verbal onslaught by Khamzat Chimaev ahead of UFC 294 
Chimaev mocked Usman's claim about being the best fighter in the world
He also said: 'I'm not dancing in the cage. I'll come and smash your face'
Khamzat Chimaev issued a brutal signal of intent at the pre-fight UFC 294 press conference on Thursday. 
Kamaru Usman, who stepped in on 10 days notice to replace Paulo Costa and take on 'Borz', went back and forth with Saturday night's opponent on stage in Abu Dhabi. 
Usman said: 'It's my will against his. When we get in there, it's like Sean Strickland says, we'll do the man dance. With my will up against his, we'll see who is going to unravel first.'
And Chimaev offered a cold response, saying: 'I'm not here for dancing, I'm here to kill somebody. That's the difference here. I'm not dancing in the cage. I'll come and smash your face, bro. Sorry.
'I don't care, hard or easy fight (After Costa withdrawal). I'm here to win, smash that guy, take my money, be happy, do something else.'
Kamaru Usman (left) takes on Khamzat Chimaev (right) in Saturday's co-main event 
https://youtube.com/watch?v=tzcd56QxLfA%3Frel%3D0
Much of the debate swirling around the fight focuses on whether Chimaev can find the same kind of success with his incredible grappling against someone as defensively sound as Usman. 
The 'Nigerian Nightmare', who denied injuring himself at the open workouts, pointed out that the fight will be about more than just one discipline. 
He said: 'We're not wrestling on Saturday, we're fighting. So whether it's mountain wrestling or Swedish wrestling it doesn't matter. We're going to step in there and mix it up. 
'I've said it before. I may not be the best striker or the best grappler but when it comes to mixing it up, I'm the best in the world.'
Chimaev then interjected: 'That's why you've lost, yeah? If you are the best, how have you lost? Last two fights you lost. 
'S**t happens, that's life, but I guess that's a lesson you're going to learn,' Usman replied.
Chimaev believes Usman took the short notice fight against him for a quick payday 
Usman and Chimaev came face to face in Abu Dhabi just two days out from the contest
Chimaev countered: 'I don't think you can teach me anything, you're too old for that now. You should start to be a coach, it would be healthy for you .'
Usman comes into the fight as the underdog, which is of little surprise given the late notice, his opponent's undefeated record and the fact he's moving up to middleweight for the first time. 
But the man who reigned supreme at welterweight for so long, before two defeats by Leon Edwards, will be desperate to show he can still mix it with the best and set himself up for a potential title shot against Strickland next year.  
Source: Read Full Article