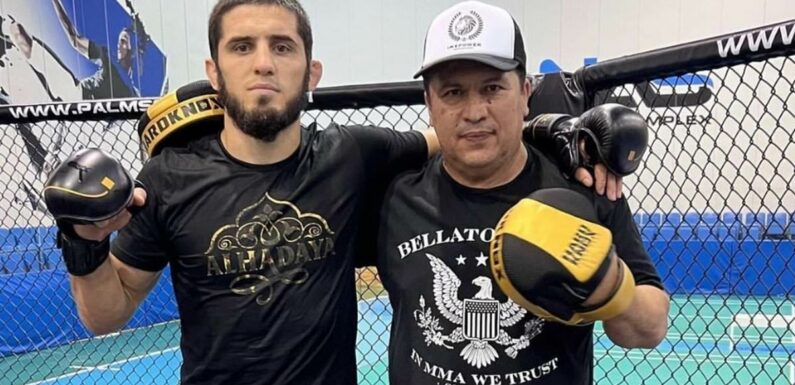 Alexander Volkanovski 'will take more chances' in UFC 294 rematch with Islam Makhachev and 'is not going to be afraid of anything', warns Russian's coach Javier Mendez
Alexander Volkanovski took the fight with Islam Makhachev on 11 days notice
He comes in with a freedom to perform and expectations lower than usual
Makhachev's coach believes Australian is going to take more risks this time 
Alexander Volkanovski 'is going to take more chances' in his rematch with Islam Makhachev, predicts the UFC lightweight champion's coach. 
The Australian, coming in on 11 days notice, has effectively a free swing at the title having lost against the same opponent back in February by decision. 
Javier Mendez, is Makhachev's head coach, believes the challenger is going to have more of a risky gameplan this time around. 
He told Submission Radio: '[Volkanovski is] going to do more. He's going to take chances. He's going to take more chances than last time. He's not going to be worried about the takedowns, because he's obviously survived the ground last time and he also did his best work on the ground, not in the standup. So, he's not going to be afraid of anything.
'That's the one thing I feel he's going to do, is he's going to come and he's going to come throwing. He's not going to be too cautious. 
Islam Makhachev (left) will face a man willing to take more risks this time, says Javier Mendez (right)
Alexander Volkanovski is not going to fear Makhachev after their first encounter, he says
'He's just going to come because feels he can handle whatever it is when he has to throw. But we'll see. I mean, you can feel whatever you want to feel, but when you're in there, it's not what I think, it's not what you think, it's not what anybody thinks, it's what these two are going to do. And can they handle it? I'm saying yes, but who knows?'
And in terms of the late notice having an impact on the challenger's cardio, Mendez played down suggestions he could struggle over 25 minutes. 
'That great cardio isn't going to allow [Volkanovski] to fade at any time,' Mendez said. 'Unless he's being damaged, he's not going to fade. 
'So if he's not being damaged very much, he's going to go five rounds. I'm expecting a five-round war like last time. That's what I'm expecting.
'I don't like going early rounds or this and that. I like going the full distance, so my mind is engaged throughout the whole five rounds, so I have to respect how great of a champion he is and I have to continue to respect that like I did last time. 
'I have to respect them again and that's what I'm going to do. I'm not going to disrespect how great he is. 'Oh, we're going to finish him in the first or second round.' Nope. In my eyes, no way.'
Makhachev was originally supposed to fight Charles Oliveira but Mendez is delighted with the opponent change because he feels there is unfinished business. 
He went on: 'I was kind of thinking, did I wish this to happen or something? Because I'm the one that was talking about, for me, this is the fight that I think needs to happen. 
Makhachev and Volkanovski match up very well on paper and had a close first contest
UFC Boss Dana White said that it took only one phone call for the Aussie to agree to the bout
'Because I wanted this fight for me, personally. Not for Islam. Islam will fight anybody, but I wanted this one for me, because I felt that there was unfinished business. 
Not that I was thinking, 'Oh, we didn't win.' We did win — and we won clearly, in my eyes. We won clearly. I think in everybody's eyes, when they watch it, turn the volume off, watch the fight and you'll see that Islam won the majority of every round. 
'If it wasn't for the last 45 seconds of the fifth round, he definitely lost that one, but other than that… but still, there's too much, 'No this, no that'. 
'So I just want clarity. I want clarity. And Islam deserves, in my opinion, to be pound-for-pound number one. And this will justify that.'
'For the UFC, I think they had a great main event, now they got a way better main event,' Mendez added. 
'They got, in my opinion, the all-time greatest rivalry in the champion versus champion UFC history.'
Source: Read Full Article