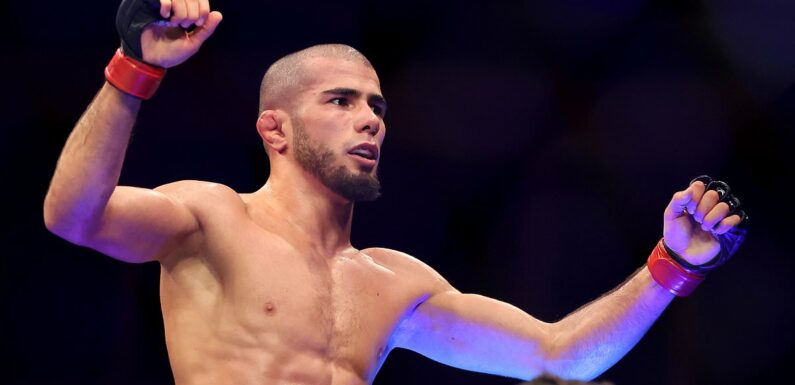 EXCLUSIVE: Muhammad Mokaev on escaping BRUTAL kneebar that 'felt like it went on for 20 minutes', bumping into UFC 294 opponent Tim Elliott in the fighter hotel and who he tips to win main and co-main events in Abu Dhabi
Muhammad Mokaev takes on UFC veteran Tim Elliott at UFC 294 on Saturday

British star still has ambition to become the youngest champion in UFC history

He spoke about toughing out incredibly painful kneebar to win in London  
As Muhammad Mokaev's leg was wrenched into a shape no leg should ever be wrenched to, it looked like his dream of becoming the UFC's youngest ever champion would go up in smoke. 
Back in March, Jafel Filho had the British 23-year-old in an excruciating kneebar, but Mokaev simply refused to tap out. 
He somehow conjured a Houdini-esque escape to execute a submission of his own and remain unbeaten, dream in tact. 
This Saturday he returns to action against Tim Elliott at UFC 294 and spoke exclusively to Mail Sport about those heroics in London and looked ahead to the weekend's match-up. 
When asked about his decision to risk real, lasting damage to his knee by gritting his teeth through the pain, he said the toughness forged outside the cage helped him stick it out, even if it did seem like an eternity. 
Muhammad Mokaev somehow escaped this incredibly tight kneebar against Jafel Filho 
Mokaev later shared pictures on social media of his incredibly swollen left leg after the fight
Mokaev came back to win and is back in action again this weekend at UFC 294 in Abu Dhabi
'I've gone through a lot of toughness in my life and it's something where you can handle the pain,' he said. 
'Of course you sometimes have to handle pain in your life. It was for 52 seconds but it felt like 20 minutes! Sometimes you have to handle the pain to get some results – nothing in life is easy and sometimes you have to sacrifice something. 
'In four fights, it's the only trouble I've been in. People get knocked out, this was just a kneebar, you can recover it's not like brain damage.'
Even after the win, there was concern Mokaev had torn his knee ligaments apart. Fortunately the scans only showed a grade two partial MCL tear, ruling him out for just a couple of months. 
'I went to Wigan Athletic to start doing rehab and start doing boxing slowly without moving my feet much and I'm back, called the UFC and said I'm ready to fight in August,' he recalled.
'They said: 'Are you sure?' I said "yes". The told me they'd look for an opponent – nobody accepted from the top 15, they said the only place they could give me was Abu Dhabi, I said "let's go".'
So the race against time is still on. Mokaev has until March next year to beat Jon Jones' record but must find a way past Elliott this weekend to stand any chance. 
Earlier this week, he bumped into his opponent outside the lift in their fighter hotel but was keen to ensure there was no animosity, with both men able to laugh off the awkwardness of it.   
The 22-year-old battled through adversity to claim victory over Filho at UFC 286 back in March
Mokaev, seen here with his father back in 2010, has come through plenty of adversity in his life
'I was with all my team and we walked to the lift and Tim Elliott was there with no security,' Mokaev explained. 
'And I was like, "guys don't pressure him much, I don't want him to feel under pressure" because he was on his own, maybe one security guy. If something happens of course the security guy was not going to help him. 
'He's a cool guy, there's nothing personal between me and Tim Elliott, we had a bit of a laugh. I just said "he's small and old", just having fun with my team. 
'He felt a little bit lost maybe but we didn't want to put pressure on him. It's happened to me before, many times, lot's of fighters won't go in a lift together. 
'Usually they wait for another one but for me it is normal. We have the fight business on Saturday. Of course if there was something personal it might be different.'
Mokaev, who came to the UK with his father from Dagestan as a refugee at the age of 12 after the death of his mother, remains one of the brightest prospects in the sport. 
He is undefeated in 11 professional fights, winning all four in the UFC and wants to compete again before next year, at least putting himself in the conversation for a title shot before March. 
The British fighter remains undefeated and wants to be the youngest ever UFC champion 
He added: 'I would like to fight again before the end of the year, maybe December. 
'After this I will fight in the US and see if there is a late replacement I can step in against, even at bantamweight. 
'Of course I'm aiming for the title at flyweight but if I can't get any ranked flyweights, why should I wait? Before the UFC all my fights were at bantamweight.'
Elliott is 13 years older and has 20 more professional fights on his CV than Mokaev. 
He's won four of his last five but the young Brit believes he is levels above in every department and cannot foresee their bout going the full 15 minutes.  
'I will finish Tim Elliott, I can finish him on the feet, on the ground, stylistically he is a good opponent for me', he predicts. 
'He is awkward for fighters who stand and bang. I'm awkward too for any opponent. 
'My striking is not like a 1-2 combination that someone can get used to. I can strike to wrestle, wrestle to strike, they don't know what's coming.'
Their encounter tops the pre-lims and there is plenty of buzz around the card now, especially after two late replacements in the main and co-main events. 
Mokaev lands a heavy kick to the midriff of Filho during their fight at the O2 Arena in London
Alexander Volkanovski has stepped up to face Islam Makhachev, while Kamaru Usman jumped into the breach to meet Khamzat Chimaev.
So, who does Mokaev tip to win? 
'UFC 294 is actually more interesting now than the original card. I think Khamzat will win and Islam will win. For Islam it won't be easy because Volkanovski has nothing to lose and that could play mentally to Islam. 
'Volkanovski was training, because I know his team. He had like four weeks of training after his operation but he's not over-trained, he's got nothing to worry about but Islam would have been preparing for five round so I'm going for him.'
Source: Read Full Article