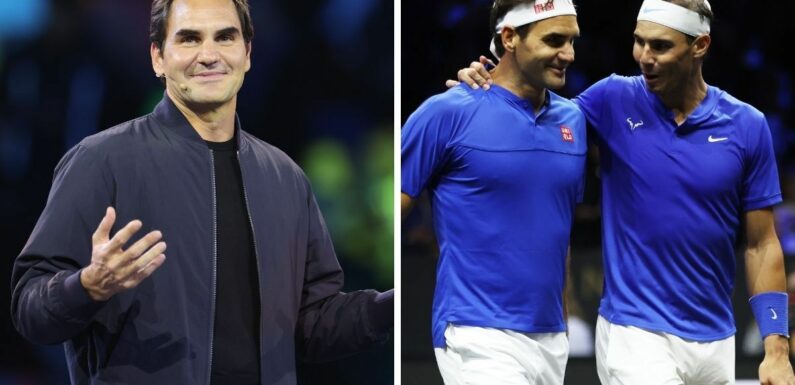 Roger Federer has confessed that he doesn't miss facing his old foe Rafael Nadal. The Swiss star retired from professional tennis 13 months ago, coincidentally playing his final match in the doubles alongside Nadal at the Laver Cup. But the 42-year-old said he was happy that he no longer had to face the "tiger" on a tennis court after meeting 40 times during his career.
Federer and Nadal were part of a thrilling rivalry that carried men's tennis for 15 years, with Novak Djokovic only adding to the intensity when he joined them to form the Big Three. The Swiss star and the 22-time Major champion first faced off at the 2004 Miami Open where teenage newcomer Nadal stunned then-world No 1 Federer in straight sets.
Their last meeting came in the semi-final of Wimbledon in 2019, where Federer got revenge after losing to Nadal a few weeks earlier at the French Open. The 42-year-old retired with a losing 16-24 record against the Spaniard but the pair managed to form a bond following their years on tour as Nadal played alongside his rival in Federer's final match.
Looking back on their rivalry, Federer admitted that he wasn't missing his intense contests with Nadal. "I haven't thought about it, to be honest, if I miss playing Rafa," the retired tennis icon told the ATP Tennis Radio Podcast.
Click here to join our WhatsApp community to be the first to receive breaking and exclusive tennis news
Just in Carlos Alcaraz warned that 'master' Novak Djokovic could ruin his dream for 2023[LATEST]
"Not really, you know. Maybe more so happy not to play, just glad I'm not in that tough match where you stare down a centre court match with one of the greats. It's nerve-racking you know. I had it so often that it's good not to have it anymore."
Federer's rivalry with Nadal captivated tennis audiences because they were the perfect opposites – the 20-time Major champion known for his elegance on a tennis court while the Spaniard has a reputation for his intensity, playing every point as if it's his last. While the Swiss player wasn't sure whether they were total opposites, he admitted Nadal was like a "tiger in the cage" at tournaments.
The 103-time title winner added: "I don't know Rafa enough off-site, but he's like a tiger in the cage whenever I see him at the courts. I feel I'm very relaxed on and off-site. He has incredible intensity, he's always warming up, he's always going around and there's always so much stuff to do for him and he's preparing and you can feel like there's always a match on his mind.
We use your sign-up to provide content in ways you've consented to and to improve our understanding of you. This may include adverts from us and 3rd parties based on our understanding. You can unsubscribe at any time. More info
Don't miss…
Novak Djokovic continues to fire shots at tennis bosses and vows 'I won't stop'[MESSAGE]
Chinese star celebrates winning title by singing to crowd after trophy lift[RECAP]
Emma Raducanu comeback verdict given by US Open victim[QUOTES]
"I don't know if we're so opposite you know. But I guess, to some extent, I may be more calm and more relaxed whereas he goes, especially through the tennis days in a more intense way when he's on-site."
While Federer has now been retired for more than a year, Nadal is still hoping to mount a return to competition – even if it's just to say goodbye. The Spaniard has been sidelined since picking up a psoas injury at January's Australian Open and underwent surgery in June. During a press conference in May, he said he would shut down his season and return in 2024 for what could be a farewell tour.
Nadal is currently practising at his academy and recently took the pressure off the potential of his retirement next season, admitting that he wasn't committing to a specific end date and that he had no expectations for his comeback
Source: Read Full Article