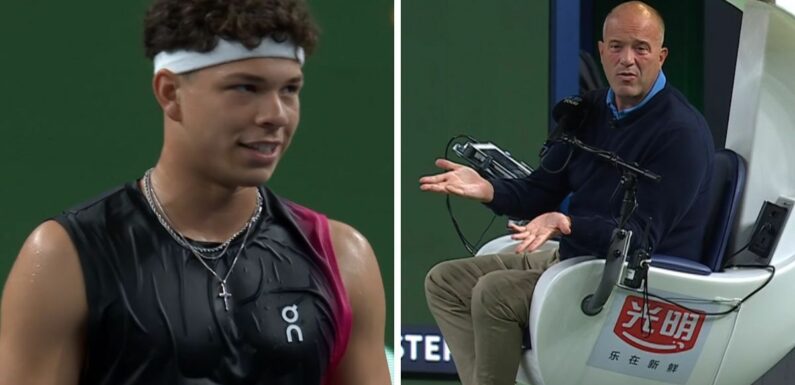 Ben Shelton made a classy gesture during his match against Sebastian Korda at the Shanghai Masters. The pair were facing off in an all-American quarter-final as the first set went to a tiebreak. Korda tried to challenge one of the 21-year-old's serves but the umpire informed him it was too late as he didn't see or hear his request to challenge. But Shelton stepped in, urging the umpire to let the world No 26 get another look at the call.
Shelton and Korda met for the first time in their careers in what was the first all-American quarter-final at a Masters 1000 since Cincinnati 2017. It was a closely-contested opening set with the world No 20 getting the first break to serve for it at 6-5. But Korda broke straight back to force a tiebreak.
The younger American took an early 2-0 lead as he fired down a booming serve that the 23-year-old attempted to challenge. Despite waving his finger, the umpire didn't see that Korda wanted to get another look at Shelton's serve and told him it was too late.
"I didn't hear you," Manuel Messina informed Korda, who argued that he did show his desire to challenge. "But you have to make it loud or wave at me. It's too late now."
Click here to join our WhatsApp community to be the first to receive breaking and exclusive tennis news
Just in Israel tennis tournament Djokovic was due to play cancelled amid Hamas conflict[LATEST]
Shelton then approached the chair official and said: "I saw him challenge, I saw him go like this," while waving his finger in the air. "I didn't see him," Messina responded. "I said if you want to challenge the call, do it loud and clear." But the 21-year-old wanted to let Korda have the opportunity to challenge.
He continued: "No, I'm saying I saw it. You can give him the challenge." Turning to Korda, the umpire said: "He's giving you the challenge, you want to challenge?" The fans in Shanghai applauded Shelton's showing of sportsmanship as the world No 26 finally got his chance to challenge the call.
But the world No 20's serve ended up being in, meaning he held onto his 2-0 lead. The tiebreak became a rollercoaster, however, with both men continuing to get mini-breaks over one another until Shelton took it 12-10 in what was a 65-minute set.
We use your sign-up to provide content in ways you've consented to and to improve our understanding of you. This may include adverts from us and 3rd parties based on our understanding. You can unsubscribe at any time. More info
Don't miss…
Novak Djokovic names British star that can threaten Serbian hopes in Davis Cup[PREVIEW]
Alcaraz outlines alarming problem he must fix in verdict of Djokovic fight[REACTION]
Djokovic shows class as Serb responds to star branded a 'snitch' in tennis row[RESPONSE]
Korda was able to bounce back in the second set, breaking the 21-year-old three times to take it 6-2 and force a decider. And he was able to pull off the comeback, coming through 6-7(10) 6-2 7-6(6) to reach his maiden Masters semi-final.
It wasn't the first time that Shelton discussed a hawkeye challenge with one of the chair umpires this week, as he previously admitted he still hadn't gotten to grips with the system in what is his first full year on the tour. During his match against Jaume Munar, Shelton earned a crucial break on a challenge and told umpire John Blom that he was still learning.
"None of the tournaments since I've turned pro have been challenge, it's all automatic now. So I've played three or four with challenge. I have no clue what I'm doing. I have the worst eyes on tour," he smiled. The Australian official replied: "There's some pretty bad ones, don't worry."
Source: Read Full Article