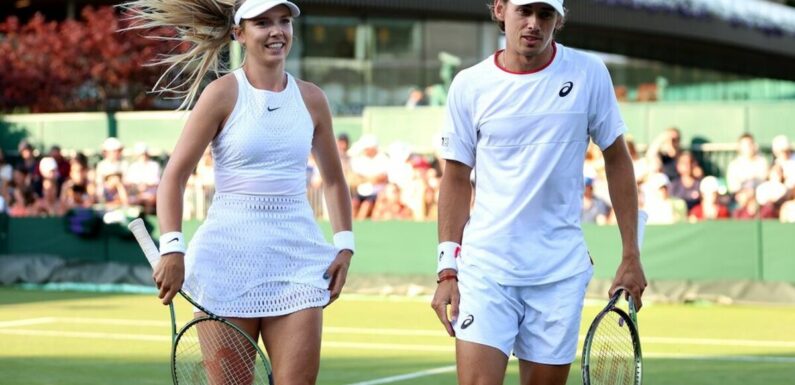 Katie Boulter is already looking ahead to her showdown with tennis star boyfriend Alex De Minaur after ending her 2023 season on a high. The world No 57 helped Britain win their Billie Jean King Cup tie over the weekend and will start next year with another team competition, the United Cup. GB will face Australia, pitting Boulter against De Minaur, and the British No 1 has already joked that she'll see if they're "still together" after the contest.
Boulter helped her nation stay in the top flight of the BJK Cup over the weekend, winning both of her singles rubbers as Britain beat Sweden 3-1. It marks an end to the 27-year-old's career-best season, in which she won her maiden WTA Tour title, broke the world's top 50 and reached two Grand Slam third rounds.
Instead of taking a well-earned break during the off-season, the British No 1 is already eager to start working for next year as she starts 2024 at the United Cup, where Britain will face Australia and the United States. It means that Boulter is set to face her boyfriend De Minaur, Australia's No 1 player.
And the Brit has already joked that it could break them up, given their dedication to playing for their respective countries. "We respect each other as competitors and also off the court as well," Boulter told PA.
Click here to join our WhatsApp community to be the first to receive breaking and exclusive F1 news.
Just in Tennis fan makes strange request to Novak Djokovic at ATP Finals as Serb obliges[LATEST]
"I'm sure we'll talk about it when we get a little closer to it but we're both going to put our heart on the line for our countries. I know he's country proud, I know I'm country proud, so we'll see if we're still together by the end of it."
With Boulter set to start her season Down Under at the mixed-gender team tournament, she is already eyeing new goals for 2024 after reaching a career-high of No 50 this year. She continued: "I've got a few different goals in my mind. I want to build on this year, I really want to get my feet inside the line, which I already have but now I've got to stay there, I've got to win these matches week in, week out, beating the top girls.
Support fearless journalism
Read The Daily Express online, advert free
Get super-fast page loading
Don't miss…
Rune 'does not agree' with Djokovic despite classy ATP Finals comment[RESPONSE]
Djokovic 'not happy' after ATP Finals win as he explains smashing two rackets[REACTION]
Zverev underestimated Alcaraz as old prediction resurfaces at ATP Finals[PREVIEW]
"You reach your goal and you think you'd be satisfied but you're not even close. I'm already looking at the next milestone, I want to be seeded in slams, that's my next stop. I want to be constantly in the top 50, I want to be pushing those boundaries."
After beating Caijsa Hennemann and Kajsa Rinaldo Persson during Britain's play-off tie at the BJK Cup this weekend, Boulter is already eager to start working for next year. "I've got to pace myself but I want to be back in the gym," she added. "I want to be bullet-proofing my body as quickly as possible, taking the least amount of days off that I possibly can."
Source: Read Full Article