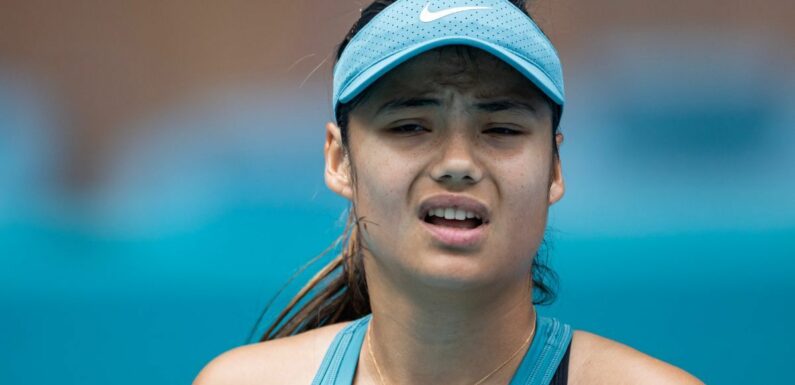 Emma Raducanu has raised fears over her participation at the upcoming Australian Open by withdrawing from an exhibition event in Macau at the start of next month. The 21-year-old has been sidelined for most of this year after undergoing surgery on her ankle and hands and was initially set to make her return to the court at the Macau Tennis Masters.
It has since been confirmed that Raducanu is no longer part of the field at the event in Macau, meaning that her long-awaited return to action will be delayed. She was originally announced as the star attraction back in June when the line-up was confirmed for the exhibition, which is organised by her management agency IMG.
No reason was given by event organisers for Raducanu's withdrawal, but The Times are reporting that she has chosen to pull out in order to prioritise getting back to full fitness ahead of the Australian Open in January. She is said to have stepped up her training at the National Tennis Centre over the last few weeks with a view to competing in Melbourne at the start of next year.
Raducanu was initially expected to make her return during the summer months after going under the knife for three minor operations in May. However, she is now set to wait until January at the earliest following several months of rehabiltation and training on the practice courts.
JUST IN: Tennis fan makes strange request to Novak Djokovic at ATP Finals as Serb obliges
The young Brit, who famously won the US Open two years ago, has slumped to No 289 in the world rankings after seven months away from the tour, with her last match coming in April. However, she will be able to use a protected ranking of No 83 to compete at the Australian Open if she returns in January as expected.
Raducanu remains without a coach in her corner after parting ways with Sebastian Sachs, her fifth coach in two years, at the start of June. She is yet to appoint a replacement but has reportedly been accompanied at her recent training sessions by her father, Ian, who is said to have a hands-on role when it comes to offering advice.
Support fearless journalism
Read The Daily Express online, advert free
Get super-fast page loading
Don't miss…
Emma Raducanu's private life beyond the court unveiled as fashionista turns 21[INSIGHT]
Stefanos Tsitsipas brutally dug out as bleak Australian Open prediction made[GOSSIP]
Nick Kyrgios ends war of words with rapper Drake after Wimbledon blame[LATEST]
Raducanu recently suggested that her high turnover of coaching staff has been down to her tendency to ask lots of questions, which she believes her previous coaches have struggled to deal with over the years.
She told BBC Radio 4's Today programme last month: "I ask my coaches a lot of questions. On certain occasions they haven't been able to keep up with the questions I've asked and maybe that's why it ended.
"It's something I've always done. I keep provoking and asking questions to coaches and challenging their thinking as well. I'm not someone that you can just tell me what do and I'll do it, I need to understand why and then I'll do it."
Click here to join our WhatsApp community to be the first to receive breaking and exclusive F1 news.
Source: Read Full Article