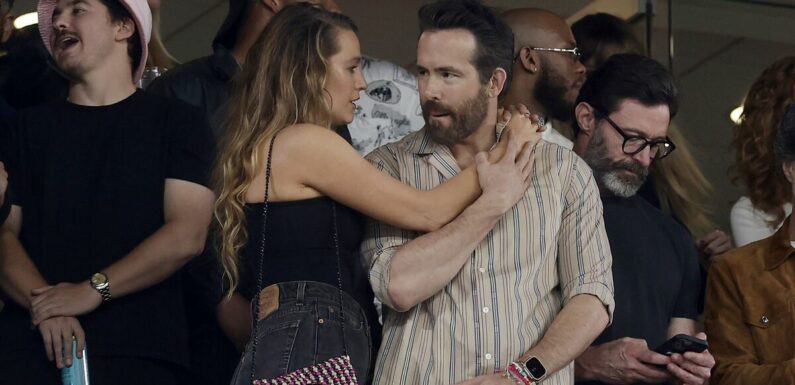 Ryan Reynolds was forced to send an apology to Ollie Palmer when a joke at the Wrexham striker's expense sparked a media storm that stretched across the Atlantic. Palmer has been one of the stars of the North Wales club's hugely successful TV documentary series 'Welcome to Wrexham', but he is also known for doing the business on the pitch with 17 goals in 45 appearances, helping the Red Dragons to clinch a return to the Football League last season after winning the National League with a record 114 points.
Palmer's 'talents' were in the spotlight for another reason, however, when club co-owner Reynolds and his wife, Blake Lively, attended a home match at the soon-to-be-redeveloped Racecourse Ground.
The Wrexham forward met the Hollywood pair after the match and as Reynolds explained, his striker was topless at the gathering. Speaking on the Fearless in Devotion podcast, Reynolds said: "Every time we've come as a family we've come over we have a walk down to the dressing room.
"Ollie [Palmer] is always the first one to walk out, completely shirtless, to have a conversation with my wife.
"I'm like Ollie put a f***ing shirt on and come back out to speak to her like a gentleman."
Although Reynolds' comments were meant to be in jest, that did not stop the matter from growing legs. Before long headlines started to pop up around the world suggesting that the actor was not happy with Palmer.
It eventually led to the Deadpool actor sending an apology to Palmer before that matter got out of hand.
Speaking on the talkSPORT Sports Breakfast, Palmer said: "Most people do take their shirts off after the game for a shower, I just didn't put one back on when I saw them both!
"He messaged me after that and said, 'I'm so sorry' because Ryan being Ryan, he made a joke of a regular scenario in our lives and it went all the way to the New York Post, People Magazine – 'Ryan Reynolds blasts Ollie Palmer'.
"It's like, can people not take a joke? They just spun this narrative on it. It was a complete joke and that news clip with a certain title went all around the world which was a bit weird, but it's one of those things now I think.
"We've become accustomed to it. I don't think he minds anyway."
Don't miss…
Wrexham mocked by Brentford after Ryan Reynolds and Rob McElhenney doc gaffes[RIBBING]
F1 team Wrexham owners Reynolds and McElhenney bought into publish finances[ACCOUNTS]
Wrexham player ignored doctors' advice after Man Utd injury[INSIGHT]
We use your sign-up to provide content in ways you've consented to and to improve our understanding of you. This may include adverts from us and 3rd parties based on our understanding. You can unsubscribe at any time. More info
Despite playing in the fourth tier of English football players and staff at Wrexham have had to grow accustomed to a level of media focus normally reserved for only the top clubs in the Premier League.
The success of 'Welcome to Wrexham', combined with a resurgence of the working-class club following major investment from Reynolds and his co-owner Rob McElhenney has elevated the Red Dragons' status to previously unreached heights.
Wrexham are currently in a Play-off position in League Two, sitting in fifth.
Source: Read Full Article