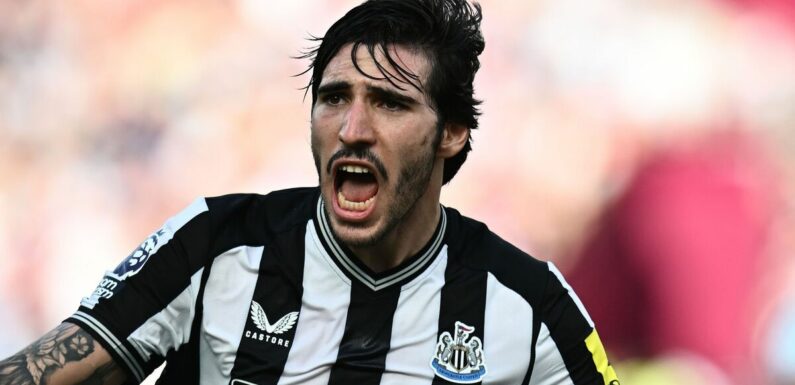 England squad train ahead of Italy Euro 2024 qualifier
Newcastle star Sandro Tonali is 'absolutely distraught' after being caught up in an alleged illegal betting scandal, Italy boss Luciano Spalletti has revealed. Tonali is being investigated by Italian authorities as part of a major probe conducted by prosecutors. 
Tonali, alongside Aston Villa's Nicolo Zaniolo, was sent home from Italy's international camp after an investigation was prompted into alleged illegal gambling. The 23-year-old midfielder has admitted that he has placed bets on football matches. 
Newcastle's record signing could face a ban of up to three years unless he fully cooperates with an investigation. Zaniolo denies betting on football matches and insists he was unaware he had played poker and blackjack on illegal platforms. 
Tonali, who is available to play for Newcastle against Crystal Palace on Saturday, is 'absolutely distraught' amid the investigation. Spalletti has opened up on the mood in the camp ahead of Italy's crunch Euro 2024 qualifier against England and has slammed gambling as "a form of temptation". 
READ MORE: FA make decision on banning Sandro Tonali ahead of Newcastle vs Crystal Palace[LATEST]
"It has been traumatic for the team because we had the authorities almost coming into the dressing room. Everyone was surprised. Everyone was upset," the 64-year-old head coach said. 
"Some of us were able to give them a hug before they went home. The players themselves were absolutely distraught because when you are part of a national team, very strong ties and bonds are created.
"I do think gambling is a form of temptation, it is a vice, and these things happen and can happen. But we are committed to keep speaking to these players, we will continue to keep our eye on them, and we will try to provide them with all of the help, information and support we can to make sure they can go back to doing what they enjoy doing most. 
"We've all been affected by this misadventure. We need to move forward. We have to focus on what our goals are. They're good players. But we can't depend solely on these players in order to get a result."
We use your sign-up to provide content in ways you've consented to and to improve our understanding of you. This may include adverts from us and 3rd parties based on our understanding. You can unsubscribe at any time. More info
DON'T MISS…
Newcastle ace Sandro Tonali 'to denounce himself' in bid to shorten football ban[LATEST]
Mauricio Pochettino given problem by Chelsea's Noni Madueke after England goals[COMMENT]
Sheikh Jassim 'decides Manchester United revenge stance' after failed takeover[NEWS]
The Italian Football Federation sent Tonali and Zaniolo home after they were named as being involved in the investigation by Turin prosecutors. The English Football Association and the Premier League are set to allow both to continue playing while the probe continues. 
Tonali was a £55million signing by Newcastle in the summer, with the Magpies paying a club-record fee to AC Milan. He scored on his debut against Aston Villa and has played in all eight of his side's Premier League fixtures. 
Express Sport has contacted Newcastle and Sandro Tonali's representatives for comment.
Get every single Sky Sports channel with Sky Stream, Netflix and Sky TV for £46 a month.
You can enjoy all the best Sky has to offer without needing a satellite connection.
Sky Sports also offers all live events from the Premier League and the F1 and more.
If you're already with Sky, you can get the full Sky Sports experience for £22 a month.
You get all the channels you'll ever need for £18 a month in time for all the top matches to take place in 2023.
If you need a brand new TV and want to watch the best sporting events around on it, Sky is offering a deal where you get Sky Glass, Sky Sports, Sky TV and Netflix for just £34 a month.
Source: Read Full Article