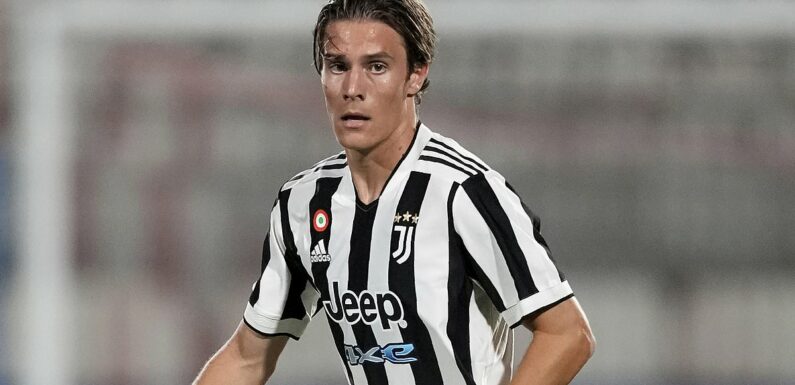 Nicolo Fagioli receives a seven-month ban for illegal betting after Juventus midfielder reached a plea bargain with prosecutors… as Newcastle's Sandro Tonali admits to being 'a gambling addict'
Juventus midfielder has reportedly reached an agreement with prosecutors
He will be banned but for much less than the usual sanction of three years
Listen to the latest episode of Mail Sport's podcast 'It's All Kicking Off!' 
Juventus midfielder Nicolo Fagioli will be banned for seven months for illegal betting having reached a plea bargain with prosecutors.
The 22-year-old appears to have secured a significant reduction on the usual minimum sanction of a three-year ban for such offences after admitting his guilt and collaborating with officials.
Sky Sport Italia report Fagioli's plea bargain was reached on Tuesday afternoon and it was subsequently confirmed by the Italian league.
The ban is 12 months in total but five of those are suspended, with Fagioli ordered to have at least six months of treatment to cure his gambling habit. He was also fined £10,850. 
It will end his season with Juventus but the punishment would be far less severe than a three-year suspension that could have wrecked his entire career.
Nicolo Fagioli will reportedly serve a seven-month betting ban after agreeing a plea bargain
The 22-year-old midfielder will serve far less than the usual three-year ban for such offences
Your browser does not support iframes.
More than 40 players are suspected of being involved in the betting scandal that has rocked Italian football – including the Premier League duo Sandro Tonali and Nicolo Zaniolo.
Newcastle United midfielder Tonali, who only signed in the summer from AC Milan for £55million, and Aston Villa winger Zaniolo, on loan from Galatasaray, plus Fagioli, were among the first names disclosed during the investigation.
All three players have had their phones and other devices confiscated but as Mail Sport reported, the probe is expected to include many more players.
Tonali joined Newcastle from AC Milan in the summer. There were initial suggestions that he bet on matches involving his former club though he is thought to be insistent that he only played online games such as poker and blackjack.
On Tuesday his agent said Tonali is battling a gambling addiction, has revealed this to those closest to him and is ready to co-operate with the authorities.
'Sandro is playing an important game against gambling addiction – he will win this one too,' he said.
'I'd like to thank Newcastle who have always stood by Sandro. He is in shock, shaken and sad.
'I hope that this experience saves his life and that of many others, that it helps those who fall into the same habit as him.'
Newcastle United midfielder Sandro Tonali has admitted to having a problem with gambling
Aston Villa's Nicolo Zaniolo is also under investigation by prosecutors in Italy
Riso added: 'Sandro is training, and on Saturday he could also play. He understood that he has to face this problem in a strong, determined way.
'The club is absolutely at this moment by his side.'
Zaniolo is claiming that he did not gamble on matches with his lawyer Gianluca Tonozzi telling Italian newspaper Gazzetta dello Sport: 'Nicolo never bet. He also told me this.
'It is possible he played card games such as poker and blackjack on illegal online platforms, without knowing that they were [illegal]. We will clarify everything.'
IT'S ALL KICKING OFF! 
It's All Kicking Off is an exciting new podcast from Mail Sport that promises a different take on Premier League football, launching with a preview show today and every week this season.
It is available on MailOnline, Mail+, YouTube , Apple Music and Spotify
Your browser does not support iframes.
Source: Read Full Article