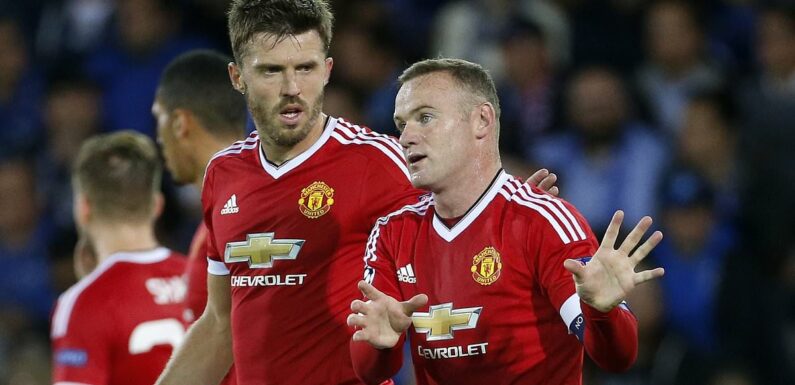 Wayne Rooney wants to wipe the smile off his former Man United team-mate Michael Carrick's face when he makes his coaching debut with Birmingham City against Middlesbrough
Rooney's first game in charge of Birmingham is a trip to Middlesbrough  
He will come up against a familiar face in ex-Man United colleague Carrick 
Listen to the latest episode of Mail Sport's podcast 'It's All Kicking Off!' 
Wayne Rooney is determined to wipe the smile from his friend Michael Carrick's face when he takes charge of Birmingham for the first time.
The former England captain leads Blues to face Carrick's Middlesbrough on Saturday following his dramatic return to English football earlier this month.
Carrick and Rooney forged a close bond as players for England and at Manchester United, where they won a combined 35 trophies. But there will be no room for sentiment this weekend.
'Michael is a good friend of mine and I will shake his hand before and after the game but I want to beat him,' said Rooney. 'He will tell you the same. We have a lot of respect for each other but we are both winners.
'He is a very intelligent person. I spoke to him before he went to Middlesbrough last year, before he moved there. I felt it would be a really good challenge for him and he has done a really good job.
Wayne Rooney will come up against a familiar face in Michael Carrick when he takes charge of Birmingham City for the first time against Middlesbrough on Saturday
Carrick and Rooney are close friends after being team-mates at United for several years
Rooney was unveiled as the new manager of Championship club Birmingham last week
Your browser does not support iframes.
'When you know you want to go into coaching you start looking at the details of the game a bit more and at United we'd always be bouncing ideas off each other and asking each other questions.
'I spoke to Michael last weekend. We are really good friends and so are our children. I played with him for many years and we lifted the FA Cup together as captain and vice-captain.
'They are special memories but I want to beat him. I don't want to see him smiling at 5pm on Saturday. But of course there is great respect and it would be nice to have a good chat after the game, whatever the result.'
IT'S ALL KICKING OFF! 
It's All Kicking Off is an exciting new podcast from Mail Sport that promises a different take on Premier League football.
It is available on MailOnline, Mail+, YouTube, Apple Music and Spotify.
Your browser does not support iframes.

Source: Read Full Article