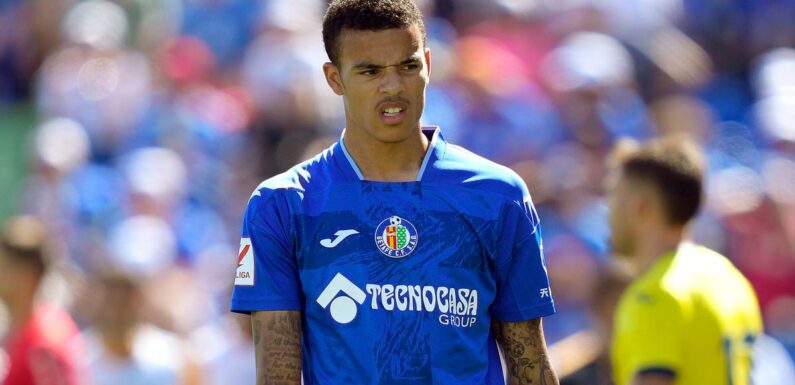 Jamaica would WELCOME Mason Greenwood should he switch allegiance from England – as the head coach describes the on-loan Man United star's dropped assault charges as 'baggage'
After 18 months, the player is beginning to feature regularly for new club Getafe 
A move to Jamaica's national team could represent a fresh international start 
Listen to the latest episode of Mail Sport's podcast 'It's All Kicking Off!' 
Jamaica are open to Mason Greenwood switching allegiances from England internationally, the Reggae Boyz's head coach has shared in a new interview. 
The former Manchester United forward is currently on loan at Getafe and scored his first goal on Sunday since making the move to LaLiga. 
Greenwood is eligible for selection by the island nation due to his Jamaican heritage and as he has only played one senior game for England, meets the criteria to make the international switch. 
The 22-year-old is thought to have been ruled out by Gareth Southgate for a later England call-up, and he has not been in contention for the Three Lions since he was sent home after his debut in September 2020 for breaching Covid-19 regulations. 
But Jamaica head coach Heimir Hallgrimsson did not rule out an international return for the player, albeit in different colours. 
Jamaica would be interested in fielding Mason Greenwood should the striker return to form
The 22-year-old scored his first goal for Getafe on Sunday after his 18th-month suspension
Jamaica coach Heimir Hallgrimsson (pictured in 2014) said that the nation wanted 'the best'
Your browser does not support iframes.
'I don't think I am different from all coaches in the world,' Hallgrimsson told The Athletic when asked about the possibility of Greenwood switching allegiances. 'We would like to have the best talent in our teams.
'If he gets his former fitness and his former level, that level could help Jamaica, and all coaches would want to have good players in their team and we are no different.
'Of course he will come with some baggage, but it's premature to talk about players that are not here. But whatever happens will happen. I want the best players with the best abilities playing for my team.' 
Jamaica Football Federation secretary general Dennis Chung voiced a similar interest in February, but Greenwood is thought to have turned down the opportunity to represent the country in the first instance. 
Greenwood made the move away from Old Trafford after 'mutually agreeing' the decision to continue his career away from his boyhood club following the conclusion of the Red Devils' internal investigation into their ex-academy player. 
United launched their review after charges of rape and assault against the player were dropped in February 2023, with the Crown Prosecution Service discarding the charges following the withdrawal of key witnesses. 
Greenwood made just one senior start for Gareth Southgate's England side in September 2020
The player was sent home after Greenwood and Phil Foden were found to have breached Covid-19 regulations in Iceland
Before his debut for Getafe in September, Greenwood had not played a competitive match since January 2022, following his arrest and subsequent suspension on full pay from the club later that month.
Should Greenwood make the switch, he would join a number of former England prospects that have made similar moves to represent the Reggae Boyz. 
Michail Antonio has played for the side since making the switch in 2021, and Ethan Pinnock, Bobby Decordova Reid, and Leon Bailey. 
Everton's Demarai Gray was latest player to make the switch, and received his maiden call-up for Jamaica in June 2023, joining their CONCACAF Gold Cup squad. 
IT'S ALL KICKING OFF! 
It's All Kicking Off is an exciting new podcast from Mail Sport that promises a different take on Premier League football, launching with a preview show today and every week this season.
It is available on MailOnline, Mail+, YouTube , Apple Music and Spotify
Your browser does not support iframes.

Source: Read Full Article