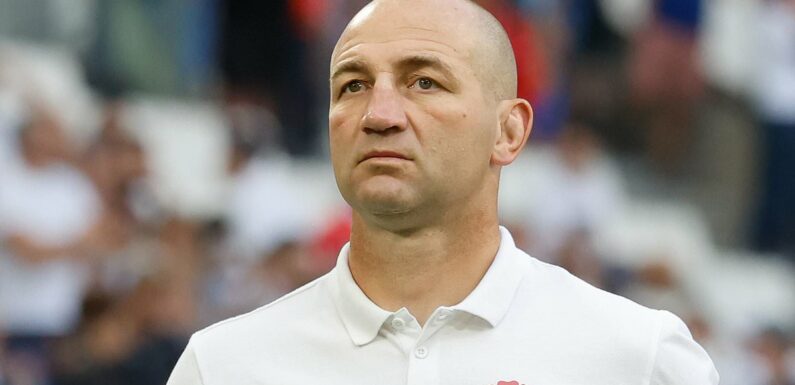 CHRIS FOY: Time for an attitude adjustment! England MUST ditch their siege mentality act before facing South Africa… and smile
England defeated Fiji 30-24 on Sunday to advance to the World Cup semi-finals

Steve Borthwick's side almost appear downbeat in comparison to other teams

England must lose their siege mentality act with holders South Africa up next

Latest Rugby World Cup 2023 news, including fixtures, live scores and results
The latest hint of the siege mentality which England have carried with them through this World Cup came from Ellis Genge, in the aftermath of Sunday's win over Fiji in Marseille.
'I quite like having our backs up against the wall, with everyone wanting us to lose,' said the Bristol prop – one of Steve Borthwick's vice-captains. 'That probably fuels me a bit.'
Bear in mind, this was after Genge and his team-mates had completed a lap of honour in front of hordes of jubilant England fans, following a 30-24 win which propelled them into a semi-final against South Africa.
The trouble was, the game was preceded by another negative reaction to Owen Farrell from the stands. When his name was read out before kick-off, he was booed – again, and louder than the week before.
The England captain has turned into a pantomime villain among those following the team he leads. Time will tell if his sterling contribution to Sunday's win will turn the tide of public opinion back in his favour.
England must ditch their siege mentality ahead of their crucial semi-final against South Africa
Steve Borthwick's England have been clear favourites in most, if not all, of their Rugby World Cup matches so far – but the undefeated side seem to enjoy playing as if they are underdogs
Perhaps this is the reason for the wagons being circled. Genge raised that issue when he said: 'We have some of the best players of their generation. Right now they are probably the villains because everyone hates on them. Faz (Farrell) gets a lot of grief, but he is big enough to look after himself, I think.'
But it goes beyond mass opposition to Farrell's presence at fly-half. The view from inside the England camp remains founded on the criticism which stalked their calamitous warm-up campaign in August. Reaction to that period is still being carried as unnecessary excess baggage.
'We've pretty much been underdogs all tournament,' said Maro Itoje. The Saracens lock has been impressive on the pitch and statesmanlike off it during this World Cup, but that claim is not true.
Since England beat Argentina handsomely in their opening game, Borthwick's side have been favourites all the way, until this week anyway. Although they were unconvincing in the escape to victory against Samoa, they have played five and won the lot.
They are the only unbeaten team in the last four, but also, to those looking in from outside, often unhappy and uninspiring. They are winning matches but not enough hearts and minds, by scowling and frowning their way to the French capital for the business end of the tournament.
Maro Itoje, who posed for pictures with fans after his team's quarter-final victory over Fiji, insisted that England have 'some of the best players of their generation' heading into Saturday
Borthwick is not interested in profile, popularity or public relations – and this approach has led supporters to see England as downbeat, unlike teams such as France, South Africa and Fiji
That is the perception of their attitude, which contrasts with the smiling image presented by the Fijians, even in defeat, and the Portugal team mobbed by euphoric supporters when they returned to Lisbon last week.
It is important to emphasise that many players are exuding enthusiasm and positivity. Danny Care is one of those evidently savouring every minute of this experience. The same can be said of Jamie George, Manu Tuilagi and several others. There is plenty of good cheer within the ranks.
But the default expression being seen by those watching from afar is downbeat, not up. It is a team in the image of a head coach, Borthwick, who is not interested in profile, popularity or public relations, despite initially seeking media support to transform the mood around the English game.
Excuse the in-house theme but controls and restrictions are preventing stories from being told and characters from being brought to life – and there are plenty of characters.
This is broader than an English issue, though. It is a problem in rugby. The game struggles with a spotlight on individuals, in the desperation to push the cult of the collective. Increasingly, coverage of the England team is pushed out through internal channels and via cosy sponsor chats. It ensures careful control of the narrative.
All this material has the tone of being safe and on-message, in pushing certain agendas. Last week it was all about endless tributes to Farrell, after he was booed in Lille before breaking the national Test points-scoring record during the Samoa match.
Despite being one of England's best players, Owen Farrell has become almost a pantomime villain in the eyes of his fans – he was booed ahead of a superb display against Fiji last weekend
Neither Farrell or Borthwick will look to ignite a wave of national excitement ahead of the semi-final and will in many ways try to keep out of sight and out of mind before facing South Africa
As England approach another momentous weekend, there will be very little talk to ignite a wave of national excitement. Any bold declarations of intent are stifled. Borthwick is not going to go into tub-thumping mode with a passionate call to arms.
The only regular topic is about training hard and seeking improvement. On a loop. In the aftermath of the Fiji game, Borthwick was so stern and tetchy that foreign media in attendance were openly stunned. They can't understand the grim, defensive mentality.
This is not an attempt to assassinate his character. Direct interactions were initially friendly and Borthwick turned up for an impromptu chat with reporters during a training camp in Verona when not expected to do so. It was a helpful gesture.
But in recent weeks, many questions and many aspects of coverage have appeared to antagonise him and create growing tension. So viewers and readers are left with a less-than-favourable impression.
Borthwick is not about to change. For all the regular tributes to England fans, he is a focused, intense character with little regard for anything quite so trivial as the way he comes across on screen, online and in print. That stuff doesn't win lineouts.
The England football team has been more open, accessible and engaging in recent years
Meanwhile, Ben Stokes has brought excitement and exuberance into English Test cricket
Ideally, England need a manager or some sort of figurehead to be the public face of the set-up, as Raphael Ibanez is for France and Rassie Erasmus for South Africa. Borthwick should be left to graft out of sight and let someone else do the talking and smiling.
While the country's football team has been more open, accessible and engaging, and the cricketers have enthralled with their Bazball exuberance, the rugby image is too often dour.
But they are unbeaten. They are two games from glory. Maybe it is time to ditch the siege mentality. Aside from the Farrell pantomime-villain sideshow, which won't faze him in the slightest, England are not being hounded by negativity as they seem to believe.
This should be a week of joyous expectation. Embrace it. Savour it – and let the people back home share in some of that joy.
Source: Read Full Article