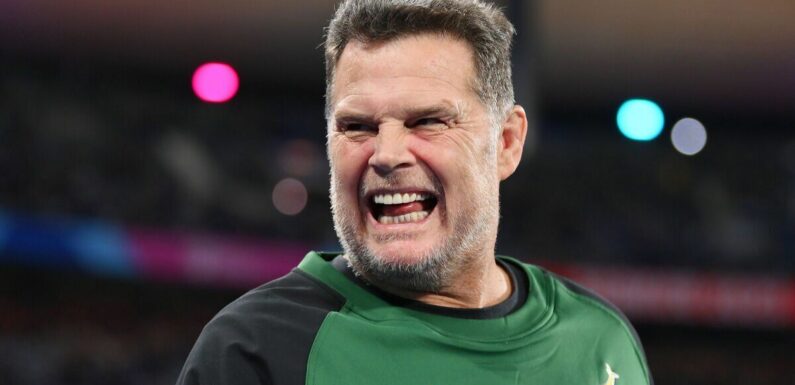 Earl and England look ahead to Rugby World Cup semi-final
England have been warned of South Africa's "dark arts" by Wales coach Warren Gatland. The Springboks are set to take on England in the Rugby World Cup semi-finals on Saturday four years after toppling the same opponents in the showpiece event as they lifted the Webb Ellis Cup for the third time in their history.
"Whisper it, but I think England can beat the Springboks…as long as they don't allow [South Africa director of rugby] Rassie Erasmus to control the agenda this week," Gatland wrote in The Telegraph just days after his Wales team were knocked out of the Rugby World Cup by Argentina in the quarter-finals.
"I know what it is like to go head-to-head with South Africa's director of rugby, and my advice to [England head coach] Steve Borthwick would be to make sure he gets on the front foot – and combat any dark arts.
"Rassie has already tried to gain a mental edge and sow seeds of doubt by naming on Tuesday what he thinks Borthwick's team will be for the semi-finals. To have any chance against the Springboks, you must attempt to not just match them physically, but also be tactically smart and show no sign of mental weakness."
Read more… Princess Kate's 'bone crusher handshake' with rugby players has 'secret' meaning
Gatland came up against Erasmus when he led the British & Irish Lions team on their 2021 Tour of South Africa. The Lions won the first Test match but lost the next two as the Springboks ultimately won the series. And the 60-year-old saw first-hand how far South Africa are willing to go to secure victory.
"The attitude in South Africa was instead one of win-at-all-costs, with the end justifying any means," Gatland added. "I think we need to be mindful of that going forward and make sure that we keep the integrity of rugby at the forefront.
We use your sign-up to provide content in ways you've consented to and to improve our understanding of you. This may include adverts from us and 3rd parties based on our understanding. You can unsubscribe at any time. More info
Don't miss…
Rugby World Cup ref appointed to England vs South Africa despite backlash[DETAILS]
England star Ellis Genge singles out two 'villains' ahead of Springboks showdown[QUOTES]
Wales chiefs point finger after shirt mishap in Argentina Rugby World Cup loss[INSIGHT]
"First we had the issue of Rassie acting as a water boy during the games and delivering messages to his players. I made the quip that if he was going to act as a 'water boy', maybe he should at least have some water in his bottle. It eventually led to World Rugby to change the laws the following year to ban coaching staff from entering the pitch as water carriers. Despite that, we continued to have an issue with messages coming onto the pitch during live play via their physio.
"South Africa are still constantly pushing the boundaries within the laws of the game. Who knows what will happen this week but I expect the Springboks will have a nagging concern that England have reached the semi-finals completely under the radar and without the mental and physically draining tests they have experienced against Ireland and France."
Source: Read Full Article