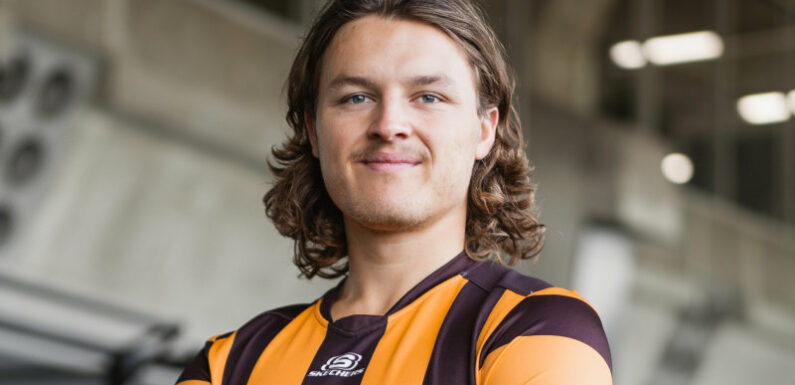 Save articles for later
Add articles to your saved list and come back to them any time.
Collingwood fan favourite Jack Ginnivan has described his move to Hawthorn as a "dream come true", as his manager revealed he drove his player's move out of Collingwood after sensing the forward's time was up in the black and white.
The Hawks unveiled their recruit on Thursday morning at Waverley, decking Ginnivan out in a long-sleeve Hawthorn jumper after securing him in a trade for a suite of pick swaps.
New Hawk: Collingwood premiership player Jack Ginnivan.Credit: Hawthorn Football Club
Ginnivan, whose professionalism had been questioned during his 42-game career at Collingwood, had been working in the gym at his new club's headquarters.
The sight of Ginnivan in the brown and gold will be jarring for Magpies fans, who embraced the cheeky and talented goalsneak with the knack of frustrating rival players and supporters – and his own coach.
As a Collingwood premiership player, Ginnivan will forever have a connection to the Magpies, but he now gets to realise his childhood dream of playing for the club he barracked for as a kid.
"It's a dream come true to don the brown and gold, finally," Ginnivan told the Hawks website.
As a player, Sam Mitchell once took Ginnivan under his wing for a fan photo. As the Hawks coach, he will do the same figuratively speaking to bring out the best from the 20-year-old, who has created headlines off the field for deeds ranging in seriousness from attending the races the night before the grand final to taking an illicit substance.
"Growing up watching him, having his number on my back, those are the things you dream of as a little kid and for that to happen is so special," Ginnivan said of teaming up with Mitchell.
Luke Breust is another member of the Hawks' golden generation he will be working closely with.
"I always wanted to play like him, copied his goal style routine," Ginnivan said. "It'll be good to stand next to him in the forward line, and Mitch Lewis, hopefully if he's not marking he can bring it to ground and I can kick a couple of goals from crumbs."
Ginnivan's departure comes less than three weeks after playing in the Pies' premiership. The first clash between Hawthorn and Collingwood next year already has blockbuster status.
"[It was] a great achievement with all my mates back there, it'll be a memory I cherish forever," Ginnivan said. "It was such a special day and so cool to be a part of."
Jack Ginnivan celebrates with the premiership cup after a surprise appearance at the races on grand final eve.Credit: Paul Rovere
Collingwood football boss Graham Wright has said the Pies did not drive Ginnivan out of the club but the player's manager John Meese said it was clear in his conversations with Wright that his client needed to leave.
The Pies acquisition of Lachie Schultz from Fremantle meant Ginnivan faced a battle to retain his place in the starting 22.
"Wrighty said to me that they hadn't had any conversations. I don't want to go tit for tat, but from that conversation I got off the phone to him knowing that Jack's future wasn't at Collingwood," Meesen told SEN.
"Who initiated the discussions was probably me on the back of some trusted people in the industry saying 'look his name is getting thrown out there'. So I picked up the phone and took Wrighty at his word that he hadn't had any conversations about Jack leaving.
"But from that, you start to unwind a little bit on 'where does he sit and what does it look like, and can you give us any assurances?'
"There wasn't a whole heap of fighting to want to keep Jack at the footy club. We had to move quickly and that's OK. That's the nature of the industry."
Meesen acknowledged Ginnivan had not been the most professional trainer but said not many players are at 20, and believed the move away from a club as big as Collingwood would help him.
"The whirlwind he had in the last two to three years, he's gone from relatively unknown to this enigma and personality in the AFL industry," Meesen said. "It's kind of hard to escape that and just settle in your carer and be yourself because everything he was doing was magnified.
"Was it training standards? Was it just him? The magnifying glass of being at Collingwood is just intense.
"Jack understands the reality right now. Twenty days or less [since] he [became] …. a premiership player, now he finds himself at another footy club. Hopefully, this is what Jack needs to settle into his career, take the spotlight off him."
Most Viewed in Sport
From our partners
Source: Read Full Article