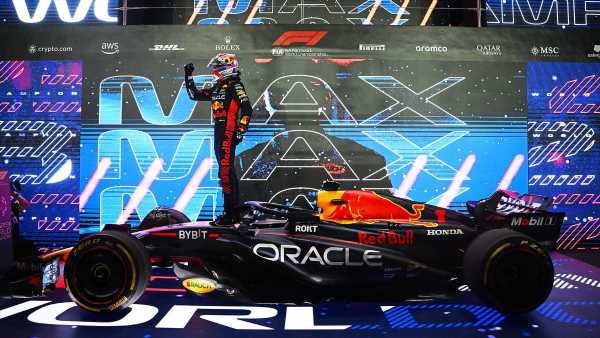 Max Verstappen insists it would be a 'beautiful story' to spend the rest of his career at Red Bull after wrapping up his third consecutive title in a record-breaking season
Max Verstappen won his third world drivers' championship in Qatar last weekend
The Dutchman is contracted with Red Bull until the end of the 2028 F1 season
He believes it would be a 'beautiful story' to spend his whole career at Red Bull 
Max Verstappen says it would be a 'beautiful story' if he were to stay with Red Bull for the remainder of his Formula One career. 
The 26-year-old sealed a third successive drivers' title over the weekend at the Qatar Grand Prix, in a record breaking season where he has won 14 out of the 17 races to date. 
Next season, he will go for his fourth straight title, which would match Sebastian Vettel's feat with Red Bull between 2010 and 2013.
While Vettel later joined Ferrari and then Aston Martin, Verstappen hopes to spend the rest of his career with Red Bull.
He told Sky F1: 'It would be a beautiful story if I could drive here forever, that's for sure, something that will be amazing.
Max Verstappen clinched his third consecutive drivers' championship in Qatar last weekend
The 26-year-old Dutchman has had a record-breaking season, winning 14 of 17 races so far
In 2024, he will look to match Sebastian Vettel's feat of four straight titles at Red Bull, though unlike the German, he hopes to finish his career at Red Bull
'I'm really happy with where I am. I feel at home, I feel really happy with the people who are very close to me here in the team.
'For me, this is not something that I need to seek. I have a few more years left on my contract anyway, so I'm just enjoying the moment.'
The Dutchman joined an elite list of names to win three world titles including Ayrton Senna, Nelson Piquet – father of Verstappen's girlfriend Kelly, Niki Lauda, Jackie Stewart and Jack Brabham. 
Having already broke the record for most consecutive wins with 10 between the Miami and Italian Grand Prix, he looks set to beat his own record of most wins in a season.
Verstappen saw the chequered flag first on 15 occasions last season, and is currently one behind that figure with five races to go. 
Originally a Red Bull junior driver, Verstappen their sister team Torro Rosso (now Alpha Tauri) in 2015, becoming the youngest driver in the history of the sport at 17 years, five months and 15 days at that year's Australian Grand Prix.
He joined Red Bull five races into the 2016 season, replacing Daniil Kyat, and winning his first race with the team thanks to Lewis Hamilton and Nico Rosberg's famous collision at the Spanish Grand Prix. 
Verstappen has added a further 48 race wins to his name, along with 30 pole positions and 93 podiums.
Verstappen joined the likes of Ayrton Senna and Nelson Piquet – father of his girlfriend Kelly (left) – to win three world championships
Verstappen will be 31-years-old when his contract at Red Bull expires after the 2028 season
He became the highest-paid driver in the sport in March 2022 with a £50m-per-year deal, with Lewis Hamilton's recent contract also seeing him earn the same amount. 
Verstappen will be 31-years-old when his Red Bull contract expires at the end of the 2028 season.
He is four titles behind rival Lewis Hamilton, and if he races until the same age as the Brit is now, then he could have up to the 2035 season to surpass the current record for most world championships.
Verstappen though insists the strength of his passion for competing will decide how long he remains in the cockpit.
He said: 'I'll do it as long as I like it and that I, you know, when I look at myself in the mirror and I can tell myself that I'm fully committed and 100 per cent going to go for it.
'Once that day arrives where I can't be fully committed anymore, that's where I'm going to stop, because then you're not in it anymore.'
Source: Read Full Article