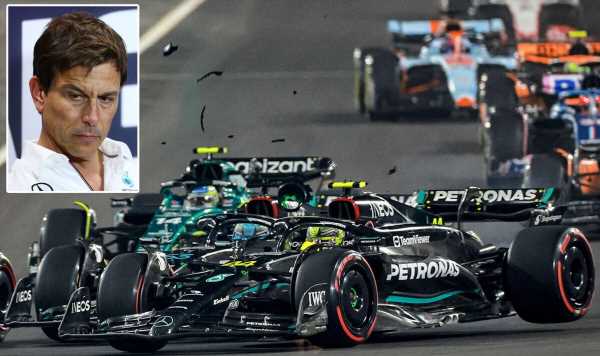 Former F1 star Ralph Schumacher has claimed that Mercedes team principal Toto Wolff may bring team orders after teammates Lewis Hamilton and George Russell's crash. The drivers dramatically took each other out during the first lap of the 2023 Qatar Grand Prix.
Hamilton would be sent spinning at the first corner following the collision, while Russell sustained heavy damage to his front wing. The smash between the Silver Arrows teammates would end the former's race, with the latter eventually able to finish.
The incident was repeat of the infamous crash involving seven-time world champion Hamilton and Nico Rosberg at the 2016 Spanish Grand Prix. Now, Schumacher, brother of F1 icon Michael Schumacher, has predicted that collision could lead to Mercedes chief Wolff taking drastic measures.
Speaking to Sky Sports about the incident involving the Mercedes pair, Schumacher said: "Lewis [Hamilton] sent in too early and simply did not give George enough space. Mercedes looked strong and threw away a lot of points. 
Follow us on X for the best and latest in sports news
Forecasting the potential of Mercedes chief Wolff having to bring team orders to the team, he added: "Now, there is some work to do between the two. You can deal with each other however you want, but the team will have to intervene from now on, and it will."
The incident at Lusail International Circuit saw the teammates exchange some heated words, as the reality of the situation soon set in on Lap 1. Both Hamilton and Russell essentially blamed each other for the crash when speaking on the radio in the immediate aftermath.
Seemingly putting the blame at the feet of his fellow Brit, Russell fumed: "Come on! What the hell! Guys come on! Three races in a row," while Hamilton issued a barbed retort to race engineer Peter Bonnington, saying: "I got taken out by own teammate."
Don't miss…
Russell disagrees with Max Verstappen as Mercedes star outlines retirement plan[LATEST]
Mercedes 'schedule' crisis summit with Lewis Hamilton and George Russell[LATEST]
F1 snubs East Coast fans with Las Vegas Grand Prix race decision[LATEST]
We use your sign-up to provide content in ways you've consented to and to improve our understanding of you. This may include adverts from us and 3rd parties based on our understanding. You can unsubscribe at any time. More info
From there, some fraught words were heard on the team radio as Russell continued his outburst, adding: "I'm f****** lost for words, honestly. I've just seen the replays on the TV screen … couldn't do anything. Totally sandwiched."
Prior to this, he had distanced himself from the blame for the crash, saying: "So sorry guys. I wasn't even looking behind, I was just focused ahead and he just came from nowhere."
Mercedes chief Wolff was having none of the explanations from either of his drivers, however, as he urged Russell to attempt to calm the situation with a stern message of his own, saying: "George, let's race now, get the best out of it."
Source: Read Full Article