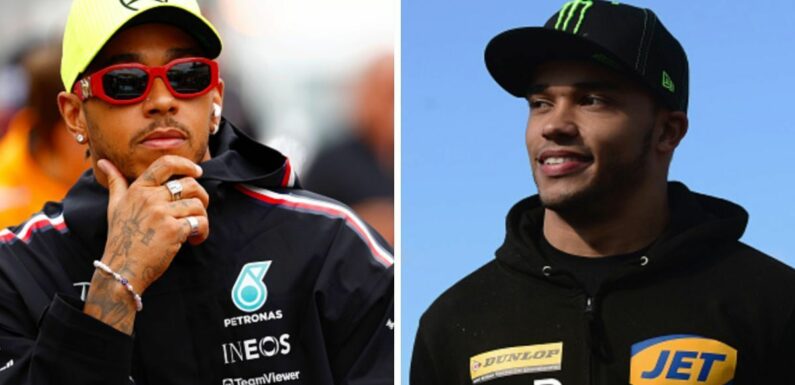 Nicolas Hamilton has reiterated that Lewis Hamilton does not fund his motorsport ventures with the British Touring Car Championship driver establishing a career at the top level of domestic racing without the help of his internationally-known brother.
The 31-year-old suffers from the disability cerebral palsy, meaning he competes with a modified car to help his impaired movement. Hamilton has been extremely vocal about his experiences with mental health and his disability as he hopes to inspire disadvantaged drivers to pursue a career in motorsport.
In an interview with The Independent, Hamilton explained: "Lewis has never put a penny into my motorsport. There's people who still don't believe me when I say that, but that is literally the situation.
"I've had a lot of online trolling and bullying where everyone says I'm only in BTCC because of Lewis. A lot of the criticism is unjust – I don't deserve it. But to finally shut the critics up on April 23rd was the best thing I could ever wish for. It was a load of relief and a lot of weight off my shoulders."
Click here to join our WhatsApp community to be the first to receive breaking and exclusive F1 news.
Don't miss… Lewis Hamilton and George Russell warned of 'bad sign' as title alarm bells ring[LATEST]
The result from April that Hamilton refers to was his career-best finish of sixth in the BTCC series at Donnington Park. This performance marked the second points finish of his spell in the series and was watched live by his older brother in a proud moment for the family.
Hamilton has, however, been open about the pressures and impact that being related to Lewis has brought to his career. With his brother being the most successful F1 driver in history, the 31-year-old has worked hard to carve out his own, unique story.
"I've always had to find something that makes me different, my USP," Hamilton continued. "Every day I learn something new about my condition and then I talk to people – I've always been very open on mental health.
Don't miss…
FIA set to anger Max Verstappen as Aston Martin confirm team name change[F1 NEWS]
Oscar Piastri tipped to become 'the next Max Verstappen' with titles to follow[PIASTRI]
Max Verstappen explains what will trigger his F1 retirement as rumours persist[VERSTAPPEN]
We use your sign-up to provide content in ways you've consented to and to improve our understanding of you. This may include adverts from us and 3rd parties based on our understanding. You can unsubscribe at any time. More info
"Now I stand in front of thousands to tell them my story and to inspire all sorts of people – disabled, people of colour, parents of disabled children. It's snowballed since 2020. Regardless of whether I'm a Hamilton or not, I've ended up creating a story and a brand which is very strong for people worldwide to relate to.
"I want to continue spreading my voice – not around being Lewis Hamilton's brother but around creating a legacy to help disabled people and people in a dark place. I've been in dark places and I want to showcase that that is absolutely OK. Society will accept you if you accept yourself."
Source: Read Full Article