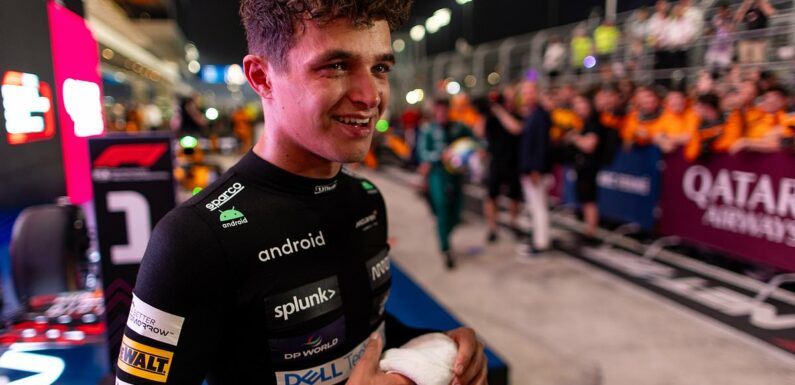 Lando Norris claims McLaren can FINALLY end Red Bull's supremacy 'in some races' next season… but admits Max Verstappen will remain the man to beat after winning a third straight world title
Red Bull have won 16 out of 17 races so far this season 
Max Verstappen has won a third consecutive drivers' championship
Lando Norris has finished on the podium five times in the last eight races
Lando Norris believes McLaren can upstage Red Bull next season and take over the mantle of favourites in a number of races.
Red Bull's stranglehold on Formula One is showing no signs of loosening with the Milton Keynes-based team winning 16 out of 17 races so far this season as Max Verstappen secured a third straight world title.
Red Bull's dominance has overshadowed McLaren's resurgence in the second half of the season, which has seen Norris finish on the podium five times in the past eight races.
Runner-up at Silverstone and at the Hungarian Grand Prix in July, Norris finished second in Singapore and Japan and came third in Qatar last week, when he also finished third in the sprint race.
His teammate Oscar Piastri, meanwhile, finished third behind him in Suzuka and second a week ago.
Lando Norris believes McLaren can upstage Red Bull next season and take over the mantle of favourites in a number of races
Norris (right) and teammate Oscar Piastri (left) finished second and third respectively behind Max Verstappen in Qatar last weekend 
The two are seventh and ninth respectively in the drivers' standings, with McLaren fifth in the constructors' championship, only 11 points behind fourth-placed Aston Martin.
And Norris believes the recent run of results shows McLaren have all it takes to challenge Red Bull's hegemony next season, at least in some races.
'If we have a strong start to the season in 2024 and continue to develop our car, I think we can occasionally be the favourites for victory next year,' he told Dutch website RacingNews365. 
'This means that from mid-season or towards the end of next year we will be on some circuits can enter the race as favourites.'
The 23-year-old, however, conceded Red Bull will remain the team to beat next season because of their superior car.
'They can perform well on any circuit, while that is not the case with us,' he explained.
'We have some circuits where we do very well, such as Silverstone for example, but on other circuits we have a very difficult time. We have to try to improve in terms of consistency.'
While Red Bull remain the dominant force in Formula One, Norris singled out Mercedes as the benchmark for the rest of the pack.
Verstappen won a third consecutive drivers' championship in Qatar 
Norris and Piastri have finished on the podium a combined seven times this season and the Briton believes McLaren can get even better next year
After a run of eight consecutive constructors' titles came to an end in 2021, the German team has struggled to keep up with Red Bull.
Lewis Hamilton and George Russell have claimed six podium finishes between them this season, a return Norris feels is underappreciated.
'Just look at Mercedes, in my opinion they are the most consistent team of 2023 after Red Bull. It may not always look that way, but they have never been very slow,' he said.
'During the season they are actually always faster than McLaren. 
'That is why Mercedes still remains the second team for me, but we are currently making steps that will bring us closer to them.
Norris singled out Mercedes as the most consistent car after Red Bull this season
'In my opinion, we are not yet the second team, but I think we have it in us to become it next year.'
The Formula One season moves across the Atlantic this weekend for the first of two races in the United States, the US Grand Prix in Austin, Texas.
The Las Vegas Grand Prix will make his debut on November 18, with the Mexican Grand Prix and the Brazilian Grand Prix scheduled for October 29 and November 5.
The season finale will take place in Abu Dhabi on November 26.  
Source: Read Full Article