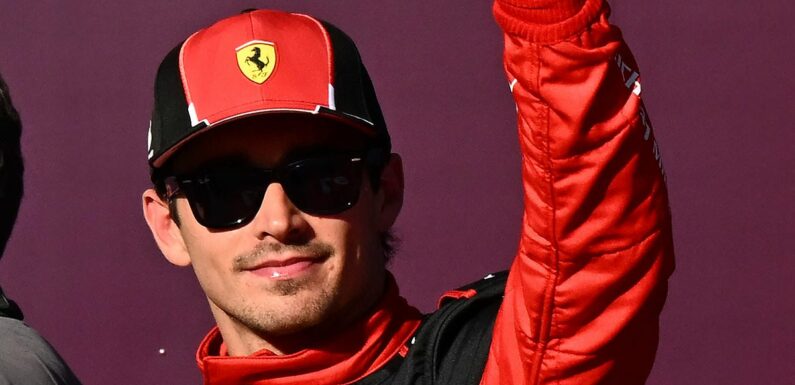 Charles Leclerc takes pole for US Grand Prix after Max Verstappen's lap was DELETED for exceeding track limits – with Lando Norris second and Lewis Hamilton in third
Verstappen went wide at turn 19 – taking what would be the quickest time off 
That makes Leclerc the pole sitter in his 100th grand prix weekend for Ferrari 
DailyMail.com provides all the latest international sports news 
Max Verstappen's quest for a potential 50th race win at the US Grand Prix was derailed when his pole lap was deleted for exceeding track limits.
The Dutchman, who clinched his third successive title in Qatar a fortnight ago, is aiming to become the fifth driver ever to notch a half century, alongside Lewis Hamilton (103), Michael Schumacher (91), Sebastian Vettel (53) and Alain Prost (51)
Verstappen led the field by five-thousandths of a second at the close of the nip-and-tuck session under scorching skies at the Circuit of the Americas outside Austin, before being plunged to sixth. He had run wide at Turn 19.
Charles Leclerc, of Ferrari, was the beneficiary, inheriting pole ahead of British duo Lando Norris and Lewis Hamilton.
'I love this track,' declared Lelerc. 'I love the vibe in the city, everything about the place.' The Monegasque had yet to win in America.
Charles Leclerc celebrates taking pole position for this weekend's US Grand Prix 
Leclerc took pole after Max Verstappen had his fastest time deleted for track limit violations
Joining Leclerc on the front row is Lando Norris (L) with Lewis Hamilton (R) finishing in P3
Daniel Ricciardo qualified 15th for AlphaTauri on his return following surgery on the left hand he broke in Holland in August.
Hamilton, meanwhile, has told his fellow drivers not to 'go soft', reminding them that Formula One is an 'extreme sport' for the 'elite'.
The seven-time world champion spoke out after several colleagues complained of physical problems in Qatar a fortnight ago, where cockpit temperatures exceeded an extremely humid 50C.
'I'm going to be controversial, as always,' said Hamilton, who crashed out at the first corner. 'I didn't do the race, so I didn't get to feel the pain the other drivers felt. But I have obviously been here a long time, and Malaysia was much hotter than that.
'This is an extreme sport, and we are paid very highly for what we do.
'I want to feel pain in my body. It makes it closer to what it was back in the day, when Nigel Mansell was passing out after a race.'
Source: Read Full Article