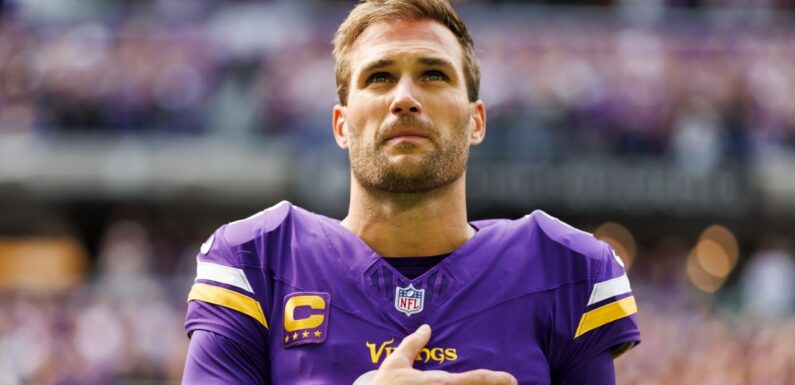 According to overall record, the Minnesota Vikings are not good. Their quarterback, however, is playing high-quality football, leading some to wonder whether a parting of ways might be ahead. 
Kirk Cousins is in the final year of his existing contract, which also includes a no-trade clause. He could waive such a clause if he wants a fresh start with a better team elsewhere, and could also grant the Vikings an opportunity to receive a return on the signal-caller who has manned their starting job since 2018.
Cousins, however, doesn't sound too interested in considering such a future — at least not yet.
"You know, I'm just very focused on the Bears and going 1-0 this week," Cousins said Wednesday when asked about potentially waiving his no-trade clause. "Anything else is just not worth my time or energy or attention."
The Vikings (1-4) face the host Chicago Bears (1-4) on Sunday, with Cousins and Co. looking to emerge from last place in the NFC North.
Related Links
Kevin O'Connell: Vikings have 'plenty' of playmakers even without Justin Jefferson
Vikings plan to place WR Justin Jefferson (hamstring) on injured reserve, timeline for return TBD
NFL trade candidates: Notable players who SHOULD be moved before the league's Oct. 31 deadline
Cousins ranks second in the NFL in passing yards (1,498), owns a 13-4 touchdown-to-interception ratio, and stands seventh in passer rating (101.7). Save for his early turnover issues (and his teammates' continued problems in that department), Cousins is outplaying his team's record. At 35 years old, he simply deserves better.
Because the Vikings are doing the opposite of what propelled them to an NFC North title a year ago — losing close games instead of winning them — the noise surrounding Cousins' future will only continue to increase in volume. He's ignoring it for now, leaning on his social media-incapable flip phone for social insulation.
"You know, ignorance is bliss and I'm just really ignorant," Cousins said. "I don't really have access to a whole lot and I try to do that by design, so it's pretty intentional. Aside from high school friends who may text me what they're reading and I'll text them back — and I prefer to remain ignorant, you know, so I'd appreciate not getting texts.
"Aside from that, I really don't know what's going on. I've been insulated at time to the point of being naive and a little stupid, but I'd rather err on that side than consuming everything and just having to … Again, it just takes your focus away from what is important and what will help you play well, so that's kinda how I wanted to do it."
So far, focusing on football is working for Cousins. It's just not working well enough for the rest of the Vikings, who continue to give away possession early and often with a league-leading 12 giveaways, and lack the punch to overcome such self-created, early deficits.
We'll see if the Vikings realize this isn't their year and ship Cousins elsewhere for what should be a quality return. Otherwise, Cousins will continue proceeding as usual — and clicking through his T9 Word function to message his buddies.
Source: Read Full Article