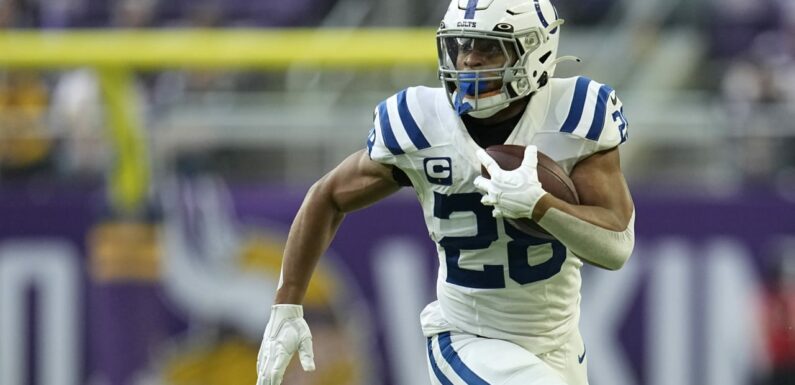 Jonathan Taylor is back! The Indianapolis Colts activated their star running back off the physically unable to perform list last week and signed him to a three-year, $42 million contract extension after a prickly few months between the player and team.
It's now time to focus our attention to the on-field aspect. With Taylor back in the mix, the Colts (3-2) must navigate dividing carries between Taylor and Zack Moss. Taylor is an elite playmaker when healthy, while Moss ranks third in the NFL with 445 rushing yards through five weeks — despite having played in only four games. Having two stud running backs is a great problem to have, and the Colts will need to lean on them with rookie quarterback Anthony Richardson missing time with a shoulder injury, but how should Indy distribute the workload moving forward?
It was no surprise to see Moss getting the majority of the work in Sunday's win over the Titans, with Taylor slowly working his way back onto the field. Moss had the best outing of his career, rushing for a career-high 165 yards and two touchdowns, including a 56-yard sprint to the end zone for Indy's first points of the game. Taylor gained 34 scrimmage yards in his season debut, playing just 10 offensive snaps (16.4 percent).
I'm all for the Colts easing Taylor back into the lineup, but we should see an uptick in his usage over the next couple of weeks. Sure, Moss has produced in place of Taylor, averaging 111.3 rush yards per game in four starts, but his track record doesn't show that he can sustain that type of production. The fourth-year pro has never played more than 13 games in a season and prior to this year averaged just 32.9 rush yards per game. Taylor, on the other hand, has proven he can be the bell cow for an entire season. Look no further than his incredible 2021 campaign, when he led the league in rushing attempts (332), rush yards (1,811), rush touchdowns (18) and rush yards per game (106.5).
Ultimately, the Colts' eighth-ranked rushing attack will be at its best by using both players. Keeping each player as fresh as possible will be a good thing for the offense. That said, you don't give a guy $42 million to be a rotational piece. Once he's physically ready, Taylor should be taking at least 65 percent of the carries, with Moss operating as a change-of-pace back.
Let's see if the Colts take my advice in the coming weeks with games against Jacksonville (also 3-2) and Cleveland (2-2).
Of course, Indianapolis isn't the only team operating with a running back committee. Today, I'm examining how carries should be distributed in five other backfields.
NOTE: For those of your wondering about the top-15 running back rankings, I am taking a one-week break while covering the NFL in London. Don't worry, I'll get back to my usual routine next week.
Related Links
NFL trade candidates: Notable players who SHOULD be moved before the league's Oct. 31 deadline
NFL PANIC SCALE: Patriots hitting rock bottom; can injury-riddled Bills, mistake-prone Ravens get right?
2023 fantasy football flex rankings: Top 150 RB/WR/TE options in Week 6

Alexander Mattison
Cam Akers
This Mattison-led attack has been quite stale in 2023. After parting ways with Dalvin Cook in the offseason, Minnesota ranks 29th in rushing entering Week 6.
The Vikings traded for Akers, who was familiar with Kevin O'Connell from the coach's days with the Rams, ahead of the team's Week 3 contest against the Chargers. Akers has been active in each of the last two games, but he has yet to play more than 35 percent of the team's offensive snaps. I believe this unit would see better output by splitting carries evenly between Mattison and Akers. The newcomer is a more explosive playmaker, but both guys are capable of helping the offense on all three downs and in short-yardage situations.
The one-win Vikings will likely start running the ball a little more with all-world receiver Justin Jefferson now on injured reserve, so it's time for the backfield to provide more balance and big plays.

Najee Harris
Jaylen Warren
The Steelers must figure out how to get their 30th-ranked offense going. None of it has been pretty this season, though injuries to key pass-catchers (Diontae Johnson, Pat Freiermuth) certainly haven't helped.
As for the run game, Harris has nearly twice as many carries as Warren through five weeks. I'm a huge Najee fan, but based on what I've seen this season, he's not doing enough. With Harris yet to log more than 71 rush yards in a game this season, Warren is the more explosive option right now. He's hitting the holes, accelerating through contact and bringing juice to an offense desperately trying to get into a rhythm. We know Harris is capable of being the guy in the backfield, but he's not quite clicking with the offensive line right now and it's showing in his production (he averaged a season-low 2.6 yards per carry against the Ravens on Sunday).
Warren has seen a slight uptick in carries in recent weeks — he still doesn't have more than nine in a game this season — and should continue to see more opportunities. Coming out of the bye week, offensive coordinator Matt Canada would be wise to evenly split carries between Harris and Warren early in games before riding the hot hand in an effort to help jump-start this struggling offense.

Bijan Robinson
Tyler Allgeier
Coming into the season, I predicted these two players would share the load in the backfield, and so far, I was spot on. Through five weeks, Robinson has 67 carries and Allgeier 62. Robinson has rushed for 364 yards (5.4 yards per carry) while Allgeier has amassed 191 yards (3.1 ypc). This duo's usage is dictated by the situation. Allgeier is best in short-yardage and goal-line situations, having scored two touchdowns when the Falcons were inside the opponent's 3-yard line.
Robinson has been phenomenal in every way, shape and form through five weeks. The rookie should start to see an increase in carries — thinking 60 percent of the totes — as his uncanny ability to make defenders miss has helped him record the fifth-most rushing yards over expected (+107) and fourth-most first downs (21) among running backs, per Next Gen Stats. He's also been a huge asset for Desmond Ridder in the passing game. Robinson is tied for the team lead with 21 receptions for 146 yards and two touchdowns.
I'd still lean on the physical Allgeier at the goal line and when Bijan lines up in the slot or out wide, but the phenom is too good to not use in a majority of situations.

Replacing Nick Chubb is nearly impossible. Ford looked like he might be up to the challenge, racking up 131 scrimmage yards and a touchdown on 19 touches in Week 2. However, in Cleveland's two games since, Ford has just 96 total scrimmage yards. Enter Kareem Hunt, who was signed in September after Chubb suffered a season-ending knee injury. Back with his former team, the banged-up Hunt has played less than 25 percent of the offensive snaps in each of his games this season, posting 25 yards on 10 carries and adding 22 yards on two receptions.
Coming off the bye week, I expect the Browns to work Hunt into the offense a bit more. Kevin Stefanski knows he has a tremendous asset in Hunt, whose experience should help guide the offense as it also navigates through Deshaun Watson's injury. The Browns would benefit from Hunt getting at least 50 percent of the carries. This team is still very much in the division race and will need to maximize the contributions of its running backs.

Javonte Williams
Samaje Perine
Jaleel McLaughlin
All three running backs have at least 20 carries this season, with Williams leading the way with 38 rushes. He's averaging just 3.6 yards a pop and has compiled more than 50 rush yards only once in his four starts — with zero touchdowns. More troubling is that Williams missed Week 5 after sustaining an injury early in Denver's Week 4 win over Chicago. As a result, Perine and McLaughlin, a rookie, have received more opportunities, with McLaughlin providing a boost to the offense. Perine has underwhelmed. McLaughlin, who's averaging 7.3 yards per carry and registered three total touchdowns in five games, had 100-plus scrimmage yards against the Bears. Also, he led the team with 68 rush yards and a receiving touchdown in the loss to the Jets last week. This Broncos' offense isn't going to miraculously get better overnight, which makes me believe there are two options in terms of backfield distribution moving forward:
Source: Read Full Article