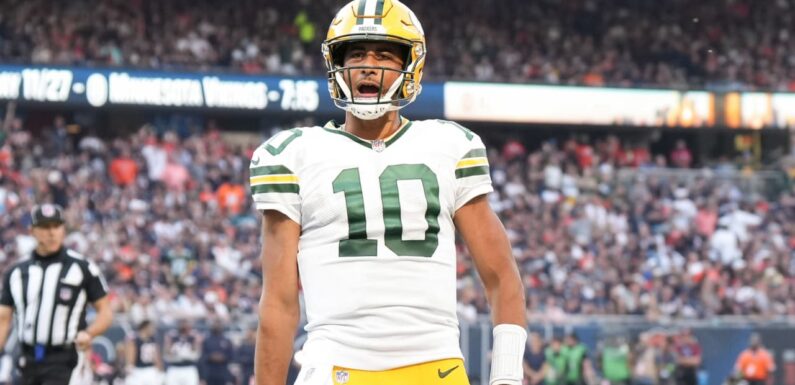 On the eve of his first game as the official QB1 of the Green Bay Packers, Jordan Love visualized leaving Soldier Field victorious.
Three touchdowns, 245 yards and a sterling performance later, Love did just that.
Reminiscent to the Aaron Rodgers era before it, Love's tenure leading the Packers began with domination of the rival Chicago Bears with a 38-20 throttling that wasn't as close as the final score.
"Yesterday was visualizing having a win, coming off the field after a win," Love said.
It was the ninth straight win for the Packers over the Bears and the fifth in a row at Soldier Field.
Related Links
2023 NFL season, Week 1: What We Learned from Sunday's games
Aaron Rodgers-less Packers have sleeper potential in NFC, while Bills look like paper tigers in loaded AFC
Week 1 NFL picks: Jets unanimously predicted to top Bills in Aaron Rodgers' debut; Steelers to beat 49ers?
Love's final line of the aforementioned 245 yards, three scores, no interceptions and a 123.2 rating was better than Rodgers and Brett Favre fared in their first starts versus the Bears, per NFL Research. Favre lost, threw for 214, 1/1 and a 69.0 rating. Rodgers won and threw for 227, 2/1 and a 105.8 rating.
Clinging to a 10-6 halftime lead, the Packers pulled away and then some in the second half. Love hit Aaron Jones for a 35-yard score and then Romeo Doubs for his second TD of the night. The latter made it 31-14 early in the third. Rookie backup Sean Clifford finished the game at QB for the Pack, as Love was able to drink in his triumphant Sunday.
"We knew what type of game we were in for," Love said. "Obviously, my first game in this rivalry, so I mean it felt good. They're a good team. Obviously, first half was close and second half, the way we just bounced back and came out there in the second half and just total domination. It felt good."
"It just feels good to get a win, never take that for granted," Love said.
With pressure aplenty on Love to fill the cleats of the departed Rodgers, the 24-year-old earned his first NFL victory as a starting QB and his first win in a storied but now lopsided rivalry.
As Love looks to follow a pair of all-time greats under center for the Packers, he took a huge step in the right direction Sunday.
"Obviously, that was the plan for us, coming in here and starting off the season in the right way," he said. "I thought we did that in all phases."
Perhaps it started the evening before when Love visualized victory.
"I slept great last night," Love said.
Chances are he will Sunday night, too.
Source: Read Full Article