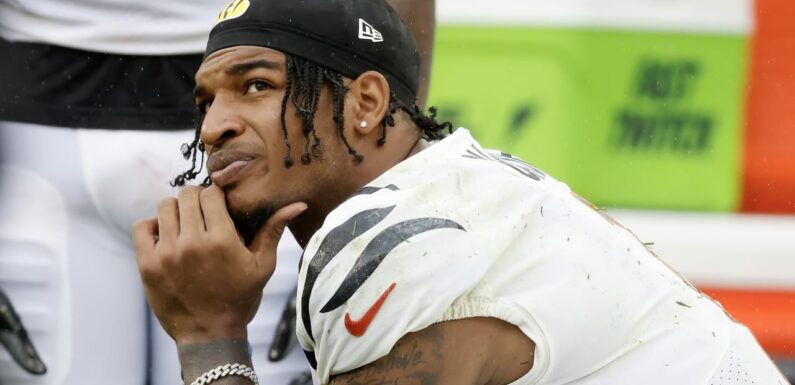 Joe Burrow isn't panicking. Ja'Marr Chase isn't backing down from his incendiary game week comments.
Nonetheless, nary a Cincinnati Bengal was pleased after an abysmal season-opening 24-3 loss to the archrival Cleveland Browns on Sunday.
"Nobody's panicking in here, guys," Burrow told reporters after he was held to a career-low 82 passing yards in the game. "Week 1 doesn't define anybody's season. Obviously not very good out there, but anybody that watched saw that. But we've been in been in this spot before, we've come back stronger and had great years, so that's what we're gonna do."
Indeed, the Bengals got off to an 0-2 start last season before rebounding to repeat as AFC North champions and advance to a second straight AFC Championship Game. However, losing to the Browns is also a spot Burrow and Co. are familiar with.
Joey Franchise is now 1-5 against the Browns franchise and dropped to 0-3 in Cleveland, where the Bengals haven't won since 2017.
Sunday's loss came days after Chase said playing in Cleveland was just a normal game.
"It don't feel no different," Chase said Thursday. "It's just the hooping and hollering about the Cleveland Browns. I was about to call them the elves, but yeah."
Those elves stood tall Sunday, shrinking the Bengals down to 142 yards of offense.
A clearly dismayed Chase didn't let his squad's three-point showing dissuade him from piling on the elf talk, though.
"It's frustrating because I called they ass elves and we just lost to some elves," said Chase of the Browns, who have a mascot named Brownie the Elf. "So I'm pissed on my part, I'm pissed on that end.
"We got missed opportunities, we didn't capitalize … and we lost."
Related Links
QB Joe Burrow, Bengals agree to five-year, $275 million extension
2023 NFL season, Week 1: What We Learned from Sunday's games
Myles Garrett on Ja'Marr Chase calling Browns 'elves': 'He didn't have to go there'
Browns star defensive end Myles Garrett, who had a 13-yard sack Sunday, was at least one Brown who expressed his displeasure with the elves comment earlier in the week. If it resulted in bulletin board material, Chase didn't seem to care.
"What blowback?" Chase said. "If they got a problem with me saying something I'm saying right now, they soft. If they soft with me saying elves, they soft then."
Aside from Chase's comments, the lead-up to the game for the Bengals was brimming with positive Burrow news. He announced himself as ready to go from a calf injury that held him out of the preseason and then signed a massive extension last Thursday.
He said his calf "felt good enough" on Sunday, but Burrow was clearly not himself in the season opener.
Still, he's not panicking. It's just one game in front of plenty more, according to the Pro Bowler
"It's one week, obviously not up to our standard, not up to my standard, but got 16 more of them," he said, "so just gonna keep trucking."
Source: Read Full Article