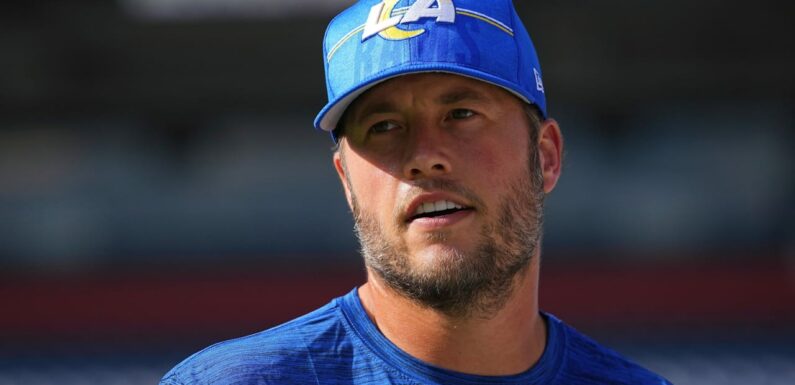 Aaron Rodgers being the starting quarterback for the Jets is easily one of the biggest storylines not just of the 2023 season, but also of the last few years. Had the story taken a different turn, however, New York could have had a different signal-caller under center Monday night against the Bills.
Sources say that when the Jets' pursuit of Rodgers lagged — due to lack of clarity on what Rodgers wanted and pre-darkness retreat concerns about whether he would even play in 2023 — the Jets called the Rams to see if Matthew Stafford would be available in a trade. Talks between New York and Los Angeles were brief, simple and to the point.
As two sources explained, the Rams were adamant Stafford wasn't going anywhere. The talks between the two teams were more exploratory than anything else with L.A. showing no willingness to do a deal, but the Jets didn't want to leave a stone unturned in their quest for a franchise QB.
When it was announced that Rams head coach Sean McVay would return for another season, the plan was always for Stafford to return, as well. In fact, Stafford comes back with an increase in arm strength and is now healthier than he was last season.
Related Links
Aaron Rodgers-less Packers have sleeper potential in NFC, while Bills look like paper tigers in loaded AFC
Week 1 NFL picks: Jets unanimously predicted to top Bills in Aaron Rodgers' debut; Steelers to beat 49ers?
NFL Week 1 bold predictions: Keenan Allen balls in Dolphins-Chargers shootout; 2 sacks for T.J. Watt
But that didn't stop teams from calling the Rams about Stafford. Sources say it wasn't just the Jets who reached out, as several other QB-needy teams called to inquire on Stafford's and a few other Rams stars' availability when people around the league wondered if Los Angeles was in sell-mode. The Rams did eventually trade Jalen Ramsey to the Dolphins in March, but the rest of the core remains.
Stafford has said it was flattering that teams called about him.
"I just know that I'm really happy where I am," Stafford said at the start of training camp in July. "Playing for this team, playing for this coach and playing for these fans."
Stafford spent last offseason dealing with an elbow issue and wound up playing just nine games last season due to the concussion protocol and a spinal cord contusion. He returns this year with renewed strength, but also a much younger team. He'll also be without Cooper Kupp for at least the first four games of the 2023 season after the wide receiver was placed on injured reserve on Saturday due to a hamstring injury.
As for the Jets, they completed months of negotiations when they traded for Rodgers on April 24. But it actually became clear a trade would likely happen when Rodgers went on the Pat McAfee Show in mid-March and said he intended to play for the Jets in the 2023 season.
At that point, it was full steam ahead for Rodgers, who makes his Jets debut in prime-time on Monday night at MetLife Stadium.
Source: Read Full Article