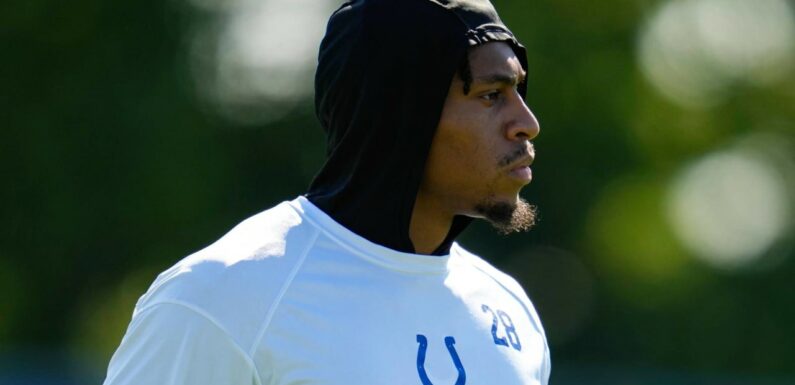 The Indianapolis Colts' season begins with running back Deon Jackson, originally a third-string back, as their starter for Sunday's game against the Jaguars. What began the preseason as a position of strength has turned into a big-time question mark.
That question mark will continue at least through the next four games and possibly beyond as starting running back Jonathan Taylor will remain on the PUP list at least through the Colts' Week 4 game against the Rams.
After that? The list of potential options and scenarios is lengthy. And as sources explained, all options are now on the table.
Sources say Taylor is healthy and likely would be able to pass a physical today if one was required. That indicates he would be able to come off the PUP list as soon as is allowed. (The Colts placed Taylor on PUP on Aug. 29 as he continued to recover from an ankle injury that required offseason surgery.)
Related Links
Colts downgrade RB Zack Moss (forearm) to doubtful for Sunday's game against Jaguars
NFL Fantasy 2023 Start 'Em, Sit 'Em Week 1: Running backs
NFL Week 1 bold predictions: Keenan Allen balls in Dolphins-Chargers shootout; 2 sacks for T.J. Watt
When Taylor requested and received permission to seek a trade in August, the Dolphins and Packers were the two main potential landing spots. Green Bay offered two mid-round picks for Taylor, but now that the regular season has started, those talks are over, sources say.
Don't be surprised if Miami is still an option, sources say. They had extensive talks with Colts general manager Chris Ballard and despite discussing various options — picks, players, both — no deal grew imminent.
"I can say there was no exchange of offers from either one of us, it was just general talks," Dolphins GM Chris Grier told reporters in late August. "In terms of being close or anything, there was nothing really close."
With four weeks to evaluate its current options, Miami getting back in the mix is possible, as no one has closed the door. There also could be another high-quality RB-needy team that emerges if an injury occurs or a player doesn't quite perform as expected.
There is also the chance — slim, but possible — that Taylor returns to play for Indy. That would likely require a contract extension — which the Colts have not yet been willing to offer. In the meantime, Taylor is training hard and as one source explained, the waters are calming down.
In other words, all sides now have four weeks to come to a mutually beneficial conclusion to end a summer-long drama.
Source: Read Full Article