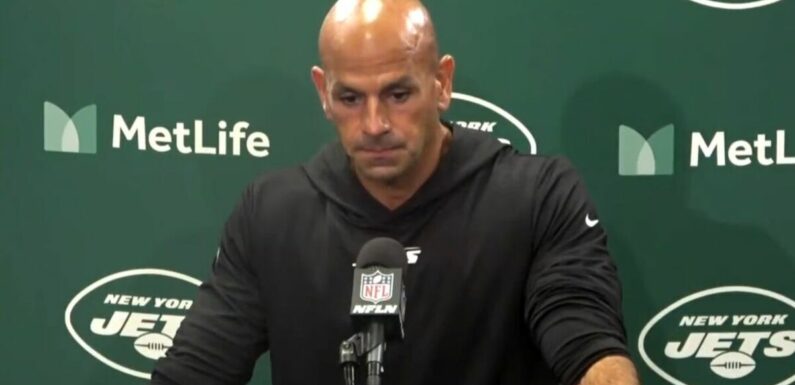 New York Jets head coach Robert Saleh looked extremely concerned as he confirmed Aaron Rodgers' "is not good". MetLife Stadium was sold out as the Jets fans welcomed Rodgers to the team, giving him a stunning reception as he ran onto the field to face the Buffalo Bills in his debut for the team which ended in a thrilling overtime victory.
However just four minutes after kick-off Rodgers was limping off the field again, after falling awkwardly on his ankle.
Rodgers was carted off to the locker room and taken for an X-ray. Initial fears over a broken ankle were quickly allayed, but the fear is now that the veteran quarterback has suffered an Achilles tear which the Jets expect to be confirmed in an MRI scan on Tuesday. If the diagnosis is as severe as it seems, it could be Zach Wilson who starts again for the remainder of this season, after Saleh confirmed: "Yeah, he'll be the guy."
The injury occurred when Rodgers was sacked by Leonard Floyd on his opening drive, and the four-time MVP is still yet to complete a pass for his new team. The Jets did go on to beat the Bills though, as Xavier Gipson scored a dramatic 65-yard, punt-return touchdown in overtime to take the win 22-16
Don't miss…
Donald Trump weight and height comparable to NFL quarterbacks after being booked[LATEST]
Tom Brady tells ITV presenter 'what are you talking about' after Birmingham win[LATEST]
Tom Brady copies Ryan Reynolds and Rob McElhenney move before Birmingham game[LATEST]
Shortly after Rodgers went to the locker room he was ruled out of the game, and his foot was placed in a boot for protection. Saleh said: "Concerned with his Achilles.
"MRI is probably going to confirm what we think is going to happen. So prayers tonight but it's not good."
An Achilles tear would surely rule the 39-year-old out until the 2024 season, and for a player who will turn 40 in December there are clearly concerns about wehther he will be able to return to the field at all. Much will be determined on the extent of the injury, subsequent surgery and then a recovery that the Jets and Rodgers will hope has no set backs.
They are 1-0 after a dramatic win, but Wilson has yet to prove himself as a starting quarterback. Rodgers joined the Jets in a huge off-season trade from the Green Bay Packers where he won one Super Bowl and four league MVPs, but admitted he considered retirement before opting to pursue a move away from the Packers.
We use your sign-up to provide content in ways you've consented to and to improve our understanding of you. This may include adverts from us and 3rd parties based on our understanding. You can unsubscribe at any time. More info
Despite being replaced by Rodgers, Wilson was also upset when seeing the veteran in a bad way and comforted him at halftime. "I have so much love for him," said Wilson. "My heart goes out to him.
"I have no idea what happened. I got to see him at half-time for a second but, you know, he'll find a way to keep working to get back. It's tough, it hurts us as a team.
"My job as a quarterback is to step up and I got to be able to be as efficient as I can in that offense. A lot of emotions, right? Week 1, opening day.
"[I'm] trying to learn as much as I can from this guy but I've also got to make sure I'm ready to go – so a lot of emotions. You've got to be able to try and stay calm and try and go out there and perform the best you can."
Source: Read Full Article