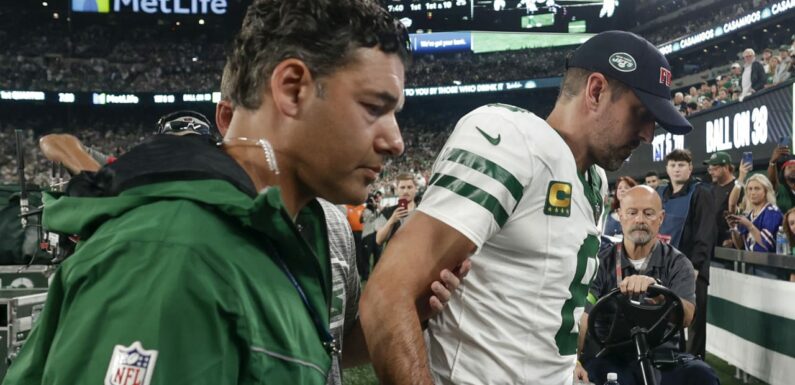 EAST RUTHERFORD, N.J. — Less than two hours before kickoff of the most highly anticipated Jets season in decades, a rainbow appeared above MetLife Stadium, perhaps a promise that their pot of gold, long well out of their grasp, was finally in reach.
Aaron Rodgers believes in speaking things into existence, in the power of manifestation. His positivity, his embrace of this second act in New York and his sterling training camp had made the Jets legitimate playoff threats and had spurred Jets fans to dream that he would finally deliver the riches that have eluded this team since Joe Namath wore the uniform. 
They roared for him when he ran onto the field Monday night. There was no screaming into existence necessary. Rodgers was really theirs. They roared when he walked out for the coin flip. There, in hindsight, was an awful bit of symmetry. Also representing the Jets for the flip was a gray-haired Vinny Testaverde, the former Jets quarterback. In 1999, the Jets had Super Bowl aspirations, too, with Testaverde as their leader. And nearly 24 years ago to the day, in that season opener, Testaverde ruptured his Achilles' tendon, ending his season, crushing those dreams.
Jets fans are exhausted by brutal history like that, and they are desperate for the record to balance out. So they roared again when Rodgers finally took the field, almost too good to be true.
It is likely it was too good to be true. Coach Robert Saleh said the team expects to confirm that Rodgers tore his Achilles tendon, which would end his season. Saleh's tone was subdued, signaling how devastating the injury is for the team. "It's not good," he said.
But for a few hours late Monday night, with an overtime walk-off punt return to beat the Buffalo Bills, 22-16, in the season opener, Jets fans screamed into existence that their team's season would still be relevant, that it could still hold promise behind a smothering defense and an electric running game, no matter how dire Rodgers' situation is.
The jubilation might be fleeting, but it at least briefly replaced the despair.
"That part sucks," Saleh said. "I'm going to enjoy this win. Winning is hard in the NFL, no matter who the quarterback is. Personally, I don't hurt for me, I don't hurt for our locker room. I hurt for Aaron and how much he is invested in this. My heart's with Aaron right now."
Related Links
2023 NFL season, Week 1: What We Learned from Jets' overtime win against Bills on Monday night
The First Read: NFL Week 1 first impressions; who's up/down entering Week 2?
Jets QB Aaron Rodgers feared to have suffered torn Achilles in overtime win over Bills
On the Jets' fourth play from scrimmage, less than four minutes into this dream, Rodgers was chased from the pocket and dragged down by the Bills' Leonard Floyd, his left foot stretching awkwardly as he fell. He stood, briefly, and hopped a few times. And then he sat back down on the field in resignation. It took a few moments for everyone to grasp the dawning nightmare. And then, as the air had gone out of Testaverde's season, so, too, did it go out of this one. Rodgers was helped into the sideline medical tent, where he stayed for several long minutes, then onto a cart, then — with a boot on his left foot and his head sunk — driven through the stadium's tunnel until he limped into an X-ray room. There would be no positive manifestation Monday night, by Rodgers, by the fans, by anyone watching, only disbelief and, for a few moments, utter silence.
The defense forced four Josh Allen turnovers — three interceptions by Jordan Whitehead — and Garrett Wilson made a circus touchdown catch late in the fourth quarter. Running back Breece Hall, returning from a torn ACL, ran for 127 yards on 10 carries. And Zach Wilson, who has tried to learn from Rodgers this summer, regained, incredibly, the job he lost.
"I gotta keep getting better," Wilson said.
That is the formula the Jets will have to use again this season, as they did last season when they won seven games and decided they had to pursue Rodgers. Somewhat incongruously, the locker room was somewhat enlivened by the dramatic taking down of a division rival, although many of them had encircled Rodgers as he went off the field, and Wilson told him he loved him. Last season, the Jets endured quarterback shuffling. They are now in the middle of another, much more crushing one. Duane Brown, the left tackle who Floyd got past on his way to the fateful sack, was dejected. Saleh insisted that the team's ambitions do not change — "Next man up and we'll keep it rolling" — but his tone and expression told a different story. He extolled the team's resilience and said he learned nothing new about the team — he already knew how tough they were.
But Monday's outcome was simply stupefying, even for people who do not root for the Jets. Rodgers is an all-time great. His enthusiasm for his second team has been unexpectedly giddy and all-encompassing. The Jets' fevered pursuit of a championship had given shape to the entire NFL season — the Jets are scheduled for a full complement of marquee games, including the first game to be played on Black Friday. The team owner, Woody Johnson, watched his investment hanging in the balance, wearing a blingy necklace that mimicked the one Sauce Gardner had bestowed on Rodgers. 
That all of those hopes collapsed so suddenly, with such brutal seeming finality, was dismal to watch.
Ever since Rodgers joined the Jets, he has taken pains to coach his new teammates, spending time after nearly every practice rep whispering to his receivers and to defenders, teaching them not just how to play, but how to win. He changed the expectations for the team in choosing to play for them, and then he went about tutoring them on how to become winners.
Rodgers was trying to accomplish something difficult, winning again after starting over. Now the Jets will try to manifest something even more difficult, salvaging a shattered season.
Follow Judy Battista on Twitter.
Source: Read Full Article