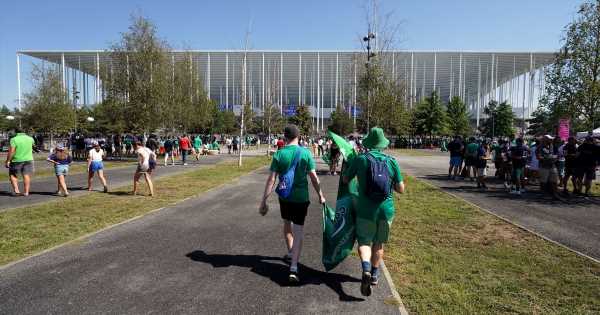 Bookmark
Offbeat news from the world of sport
Thank you for subscribing!
Offbeat news from the world of sport
We have more newsletters
An Ireland rugby fan was abducted and gang-raped after watching her team play in France, it's been reported.
The woman, who was in Bordeaux to watch Ireland's World Cup victory over Romania on Saturday, was reportedly snatched and attacked by three men on Sunday (September 10) night.
French newspaper Le Parisien said she was driven in a car after being forced into an alleyway by the three men while on her way back to her accommodation in the Saint-Paul district.
It's understood the incident took place on Rue de la Rousselle near the city centre. French police said they were 'actively seeking' the suspects, who fled the scene as residents alerted the authorities.
READ MORE: Inside the biggest upset in Rugby World Cup history that saw 1-500 favourites toppled
Police told Le Parisien: "The investigations are under way and in particular the genetic examinations on the victim and the clothing, the collection of testimonies and the study of the video protection of the neighbourhood."
It's also believed all three alleged perpetrators involved in the attack were white, with one described as 'very athletic'.
Another report from L'Independant said the woman was 'traumatised and prostrate' when officers attended her accommodation.
It said "reports indicated she was initially unable to report the assault in her 'state of shock", adding that French police eventually saw to her before their Irish counterparts arrived.
Ireland opened their Rugby World Cup campaign with a dominant 82-8 win over Romania at the Stade de la Bordeaux on Saturday.
"Andy Farrell's side headed into the tournament as one of the major favourites to clinch the Webb Ellis Cup.
The incident took place following concerns over the safety of fans outside the Stade Velodrome in Marseille before England took on Argentina in their opening game of the tournament.
Spectators were stuck in crushes outside the stadium for up to an hour after kick-off in scenes that were reminiscent of the chaos that preceded the Champions League final between Liverpool and Real Madrid in Paris in 2022.
One England fan said: "It was an abject disaster. No signage. No people to direct – 67,000 people funnelled through a single staircase."
Breaking News
Rugby World Cup
Rugby union
Source: Read Full Article