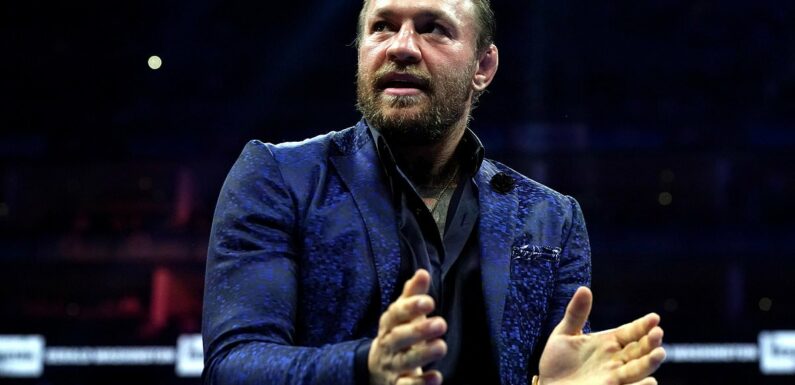 Conor McGregor claims 'little sausage' Alexander Volkanovski will be 'quick work for him' and says the Australian is 'hittable and hurtable' – as the featherweight champion responds: 'Let's do it at UFC 300'
 Conor McGregor could face Alexander Volkanovski in mega fight at UFC 300 
McGregor challenged the Featherweight champion in social media post 

The Australian responded by challenging McGregor to bout at UFC's big event  
Conor McGregor could be heading for a big-money showdown with Alexander Volkanovski at UFC 300 after the pair waged war against each on social media. 
During this weekend's UFC 293 event, McGregor sent his usual flurry of opinions across social media, and in one post took aim at the current Featherweight champion. 
'Ask my b****x that little sausage volkonovski is no way p4p 1. Silly.' McGregor ranted in the direction of the Australian. 
'That's quick work for me. 100% accuracy work. Readable. Hittable. Hurtable. I like he has this title tho we should fight at some stage so the FW goats will have all faced off and let there be no debate.' 
It didn't take long for Volkanovski to reply. Twenty minutes after the post was sent, he responded by accepting the Irishman's challenge and threw down UFC 300 as a possible setting fort he fight. Simply declaring 'Let's do it at #UFC300.' 
Conor McGregor took a swipe at current UFC Featherweight champion Alexander Volkanovski
Volkanovski accepted McGregor's challenge and put forward for a match with him at UFC 300
The two fighters have a spat on social media and seemingly set up a match for the future 
Volkanovski is coming off a victory over Yair Rodriguez at UFC 290, and currently in the prime of his career, whereas UFC is still waiting on the return of McGregor to the Octagon.
The 'Notorious' fighter, now 34, hasn't competed in a UFC fight since his brutal leg injury against Dustin Poirier in 2021. 
He confirmed earlier this month his plan to return to fighting, putting a three-match plan in place by targeting bouts against Michael Chandler, Justin Gaethje and a trilogy of meetings with Nate Diaz. 
However, it looks like a new addition will have to be made to that list, if a bout can be confirmed between McGregor and Volkanovski for UFC 300, which would likely take place next Spring. 
The only question would be if former multi-time UFC Champion McGregor, could get get himself down to competing at Featherweight, or would the bout be fought in the Lightweight division instead.
Australian fighter Alexander Volkanovski is the current UFC Featherweight champion 
Source: Read Full Article