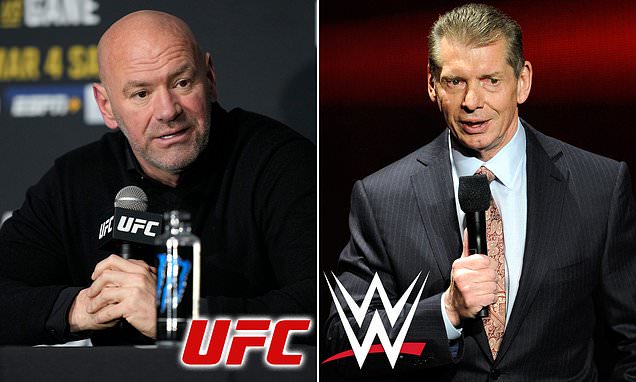 WWE and UFC complete HUGE merger following Endeavor's £17billion takeover… with new company TKO Group Holdings set to include Vince McMahon and Ari Emanuel as board members
Endeavor's merger of WWE and UFC has been called 'TKO Group Holdings' 

The takeover by Endeavor – parent company of UFC – valued WWE at £7.53bn 

The deal values the newly combined company at over £17billion ($21 billion)
WWE and UFC's historic merger controlled by Endeavor Group, who have formed a new publicly listed company called TKO Group Holdings, has been completed. 
It was announced in April that WWE would be sold to the Endeavour group and together would be merged with UFC to form a brand new company. 
Endeavor – who own UFC – will hold a 51 per cent stake in the combined company, while WWE shareholders will hold 49 per cent, according to the agreement. 
It was confirmed that the deal values the new company at more than £17.3bn ($21.4bn) according to the companies, with UFC valued at £9.8bn ($12.1bn) and WWE at £7.5bn ($9.3bn). 
The name for the merger had just been listed as 'Newco' on filings, before shifting to New Whale Inc. In May, a spokesperson confirmed it would be called TKO Group Holdings.
Endeavor – the parent company of UFC –  have finalised their merge with WWE to form a new listed company named 'TKO Group Holdings' which has been valued at £17.3bn ($21.4bn)
Representatives from both Endeavor and the WWE were present for the official announcement
Endeavour announced their groundbreaking merger of both WWE and UFC last month 
The new deal, which is seen as a landmark moment in the industry, was announced at the start of April, just a day after WWE hosted WrestleMania 39 in California. 
It is the first time WWE will not run under a McMahon name, having been a family-run company, firstly with Vince McMahon Sr, before his son took over the promotion in 1982 and turned into household name. 
McMahon returned to WWE in January, to help facilitate the sale after the company, after previously retiring from his role amid allegations against the 74-year-old. 
He faced allegations that he paid several women millions of dollars of 'hush money' regarding alleged sexual misconduct. 
The board of directors of TKO Group Holdings will consist of 11 members – with 5 representing WWE and 6 representing Endeavor.
The representatives of Endeavor include McMahon, Nick Khan, Steve Koonin, Carrie A. Wheeler and one more to be announced. 
For Endeavor, the representatives include Emanuel, Egon Durban, Jonathan Kraft, Sonya Medina Williams, Mark Shapiro, Nancy Tellem.
Paul Levesque, head of creative for WWE, and Dana White, president of the UFC, were not included on the new board but will maintain their roles in their respective divisions of TKO.
'This is a rare opportunity to create a global live sports and entertainment pureplay built for where the industry is headed,' said Emanuel in a statement in April.
The deal will see two of the largest sports entertainment brands in the world join forces
CEO of Endeavour Ari Emanuel will be part of the board of the new WWE and UFC company 
Endeavor was founded in 1995 and became the Endeavor group in 2005 thanks to a merger with the William Morris Agency. Emanuel's clients have include Oprah Winfrey, Martin Scorsese, Charlize Theron, Mark Wahlberg, and even WWE icon, Dwayne 'The Rock' Johnson.
The company's sensational success in Hollywood meant they could purchase rivals IMG for £1.9billion in 2013. Two years later they'd purchase the Miss Universe organisation from Donald Trump.
Crucially, in 2016, Endeavor purchased Zuffa, the parent company for the UFC, for £3.2 billion. Seven years later, they have purchased the WWE and decided to merge the two live entertainment properties together under one umbrella.
Endeavor became the outright owner of the UFC in 2021. Shares rose 10% for the company that year. Overall for Endeavor when it comes to sport, revenue grew 20% last year to £1billion ($1.3 billion) thanks and a large part of that rise came from increased media rights fees, something the company will really enjoy in 2024.
Source: Read Full Article