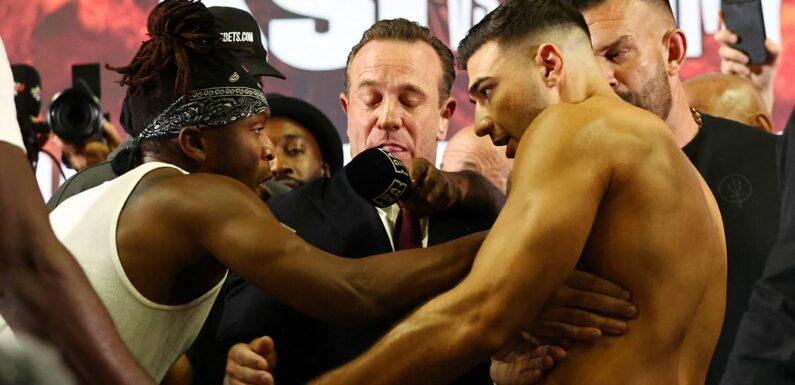 KSI and Tommy Fury rake in huge profits from fake Instagram profiles… with bots accounting for nearly a QUARTER of KSI's following on the social media platform – but how much do they make per post?
KSI and Fury are due to meet on Saturday in Manchester after long trading jibes 
Both stars have millions of Instagram followers as well as earning big in the ring 
READ: How the KSI-Logan Paul-headlined boxing show descended into CHAOS 
KSI and Tommy Fury both earn thousands of pounds from 'fake' followers through their Instagram sponsored post, a new study has found. 
The social media stars are due to meet in the ring at the AO Arena in Manchester on Saturday in a hotly anticipated grudge match after long trading jibes. 
Tensions continue to rise between the two fighters, with KSI – given name Olajide Olatunji – goading the former Love Island star's father, John during Wednesday's open workout. 
KSI spat at Fury Snr from a balcony and although he missed the target, he had to dodge out of the way of a bottle thrown in his direction in response. 
With anticipation at a fever pitch, the contest is likely to attract a legion of pay-per-view spectators – but beyond what they stand to earn in the fight, which is yet to be revealed, both KSI and Fury make a large portion of their income via sponsored social media posts. 
KSI (left) and Tommy Fury will finally meet on Saturday after long trading bitter public jibes 
Former Love Island star Fury has grown his profile as a professional boxer via Instagram
Both he and KSI can command enormous sums from sponsored posts on the popular platform
However, as per data shared by Casino Alpha, considerable percentages of what KSI and Fury make from their sponsored Instagram posts is generated by fake accounts – for the former, this accounts for almost a quarter of his following. 
24.9 per cent of the Prime entrepreneur's 13.2m followers have been identified in the data as fake accounts, which translates to £12,013 of his potential Instagram earnings. 
KSI could make up to a mammoth £49,460 per post after building up his personal brand on social media. 
By comparison, Fury's potential Instagram earnings per sponsored post sits at around £24,892. 
However, a much smaller percentage of his 5.4m followers are fake – 10.92 percent. 
This percentage translates to about £2,718 of his earnings generated by bot accounts. 
Whilst KSI may rake in higher sums from his social media status, the 30-year-old seems quick to put his earnings to use, shelling out an estimated £40,000 on 'the world's most expensive mouthguard' to sport on Saturday evening. 
The piece – emblazoned with the logo of his sports drink – is encrusted with diamons and 24-carat gold leaf. 
The YouTuber's confidence has also been gold-plated ahead of the showdown, with KSI boasting on Tuesday that success in training has put him on a 'different level'. 
'It's kind of weird, but I honestly feel like at the end of camp I could fight anyone and give it a good f****** go,' said KSI. 
Whether it's Canelo, whether it's (Dmitry) Bivol, whether it's (Artur) Beterbiev, anyone. I just feel like I'm on a different level.
KSI has spent big in preparation for the contest – including investing in a pricey mouthguard
'But, that's just the training, obviously I know in reality if I fight these guys, technically they're way better than me and they know how to beat me,' he added. 
Going into the bout, KSI has seen his TKO victory over Joe Fournier overturned, with the result changed to a 'no decision' following a post-fight review in his last fight.
'The Nightmare' appeared to have ended the contest in the second round. However, replays showed the knockout blow had come from a forearm – with PBA deciding that the elbow was accidental, therefore changing the result. 
Professional boxer Fury comes to Saturday off the back of a split-decision win against Jake Paul in Saudi Arabia in February 2023.   
Source: Read Full Article