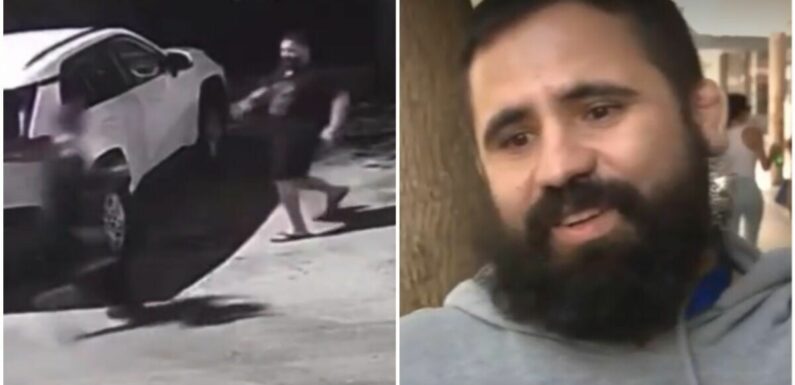 I went on Take Me Out before finding UFC stardom
Retired MMA fighter Javier Baez has been filmed fighting off an attacker in a clip that has gone viral on social media. The footage shows the former Bantamweight involved in a grapple with a man holding what appears to be a knife outside an apartment complex parking lot in Cutler Bay.
Baez – who has five professional wins, two defeats and a draw to his name – is seen in the surveillance footage standing by his car before a man rushes towards him with a weapon. The MMA star can be seen grabbing the alleged attacker by the throat before slamming him to the ground.
Baez is then seen lying on top of his attacker and breaking the weapon free from his clutches. The retired fighter has since addressed the incident in an interview with local news outlets and claims he is unhurt.
"Guy was out there screaming on the phone, literally was fighting for a while with some woman," said Baez via CBS Miami describing the altercation before the footage.
Don't miss…
Mark Zuckerberg forced to undergo surgery and cancel fight after injury[LATEST]
Brutal moment mum knocks out her son's ex-girlfriend in bloody MMA fight[LATEST]
White left with egg on his face after Ngannou display against Fury[LATEST]
"He tapped on my door window. I told him to leave me alone, and then he came at me with a knife. I told him to leave me alone. I'm calling the cops. I hope he doesn't break my window. That's all I cared about."
The report adds that Baez left his car to diffuse the situation and saw the attacker grab the weapon. "He got really mad," Baez said. "He got a knife and came running at me. Well, the rest is on video."
"I stayed calm, kept my balance, kept my composure," Baez said when asked how his MMA training helped. "Didn't bring him down and start beating on. Just took him down."
Support fearless journalism
Read The Daily Express online, advert free
Get super-fast page loading
In a report via Local News 10, the MMA fighter echoed his comments.
"You train so many times that it becomes just a reflex," Baez said. "Once I started putting the choke in, he kind of just let it go because no one is worried about anything else but breathing when you're losing air. I was able to hold him down with my knee and call the cops, and he woke up, cops came, and it was good, easy peasy!"
"Once it came to that, it's all instincts," he added. "I couldn't do much but just react. I've been training my whole life — black belt jiu-jitsu, wrestled in college, I've got eight pro fights, MMA masters. I've got great training partners."
The video has been viewed millions of times on X and has been reposted by current UFC lightweight fighter Terrance McKinney.
"Whoa Javier Baez in Miami got attacked by some random with a knife but shows why wrestling is important to know," he said to his 147,000 followers.
The Local News 10 report claims that the suspect was 'transported to the Cutler Bay Municipal District where he was interviewed and provided a statement to police.'
Source: Read Full Article