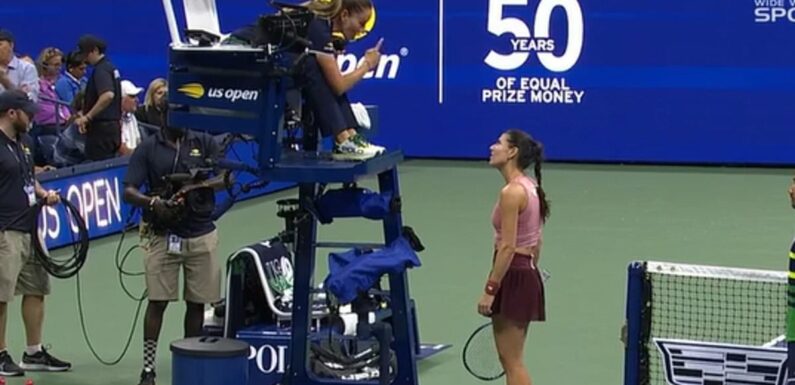 Jelena Dokic slams tennis star Karolina Muchova for dodgy act at the US Open that made her opponent lash out at the umpire
Czech star leaves court for lengthy break

Opponent is left fuming at umpire
Dokic also questions the strange move
Former Australian tennis star Jelena Dokic has queiried Karolina Muchova for taking a lengthy break after winning the first set against Sorana Cirstea at the US Open on Tuesday morning.
Czech star Muchova overwhelmed Romania's Cirstea 6-0 6-3 in stifling conditions to progress through to the semifinals.
However, Cirstea was left furious following the first set when Muchova chose to leave the court for an extended period.
Cirstea wanted to get on with the match and had a heated exchange with the umpire over the matter. 
'I am the one waiting for her to serve,' Cirstea told the official. 
Sorana Cirstea had a heated exchange with the umpire after her opponent Karolina Muchova took a lengthy break between sets
Muchova went on to beat Cirstea 6-0 6-3 in their US Open match
'I don't understand what you want from me.'
Dokic was also confused by the Czech star's exit from the court after winning the set.
'She went for a change of shirt and usually you don't do that when you've got the momentum,' Dokic said in commentary for Channel Nine. 
'Not only the momentum but she won 6-0.'
Muchova also sparked controversy after taking a medical timeout while playing Ash Barty at the Australian Open in 2021.
She looked overwhelmed by the Aussie after the first set, but came back completely refreshed after a break.
The Czech star went on to beat Barty and later admitted she wasn't injured, but rather needed to focus. 
Meanwhile, Russian star Daniil Medvedev has been criticised for a similar act of 'gamesmanship' against Aussie Alex de Minaur on Monday.
The 13th-seeded de Minaur shocked the world No.3 in their round of 16 clash by taking the first set 6-2.
That prompted Medvedev to gather up his entire kit bag and leave the court for an extended period, returning in a complete change of clothes.
After struggling in the first set, the re-energised Russian found his mojo during the extended break and cruised through the next three sets to turn the match on its head, ultimately winning 2-6, 6-4, 6-1, 6-2.
Former tennis star Jelena Dokic questioned the tactics from the Czech star
Daniil Medvedev was criticised for a similar act of 'gamesmanship' against Alex de Minaur
 Australian doubles champion Todd Woodbridge was also scathing in commentary.
'This is a strange situation in the match,' Woodbridge said on Channel Nine.
'A 31-minute set, Medvedev leaves the court, took his whole bag… why do you need to leave the court for that long?
'It's not a toilet break, is he changing full kit? Shouldn't that be at a certain time? I tell you, I think our sport really has to do something about these changeovers.
'It's just such a crutch that everyone seems to go to when they're down, and it's just not part of the game.
'It shouldn't be there, I implore our rules officials to get in and stop all this stuff going on, because it's just momentum changes in matches that we shouldn't have.'
Source: Read Full Article