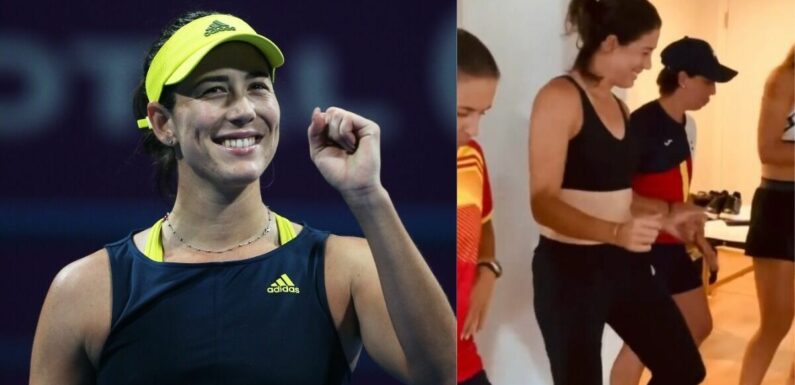 Former Wimbledon champion Garbine Muguruza has undertaken a unique career change and become a Zumba instructor following her extended hiatus from tennis. The two-time Grand Slam champion has stepped away from the courts and is enjoying a less competitive passion, but has refused to rule out a return to the sport in the future.
At 29-years-old Muguruza has enjoyed an impressive career since turning professional back in 2012. The Venezuelan-born star reached top of the world rankings in 2017 and has 10 career titles to her name, including two Grand Slams and victory in the 2021 WTA Finals.
Both her major titles came with victories over the Williams sisters. A Wimbledon final win in 2017 against Venus and a French Open victory in 2016 against Serena were her high points, but a run of injuries and a loss of form saw her opt to take a break from the sport.
The Spaniard – now ranked 461st in the world – has endured a tough couple of seasons and last played at the Lyon Open in February, where she was beaten in straight sets by Linda Noskova. The defeat was a sixth consecutive loss causing her to step away from tennis.
View this post on Instagram

A post shared by GАЯВIÑE МUGUЯUΖΑ (@garbimuguruza)
And while no longer featuring on the courts Muguruza has found another way to keep herself busy and keep herself active – turning to the dance fitness program Zumba.
The temporary career change comes as little surprise to fans with Muguruza regularly posting clips of herself dancing on social media. She has even been spotted taking part at an event in Malaga in early September where a reported 500 people were in attendance.
Muguruza believes that Zumba has plenty of benefits that the sport can't match. "The difference between my usual training and Zumba is that in tennis you work on containing your emotions, being focused and not making mistakes," she said.
Don't miss…
Djokovic and Murray in agreement as Davis Cup organisers slammed for 'disaster'[LATEST]
Ben Shelton labelled as new Nick Kyrgios by Andy Murray's ex-coach[REPORTS]
Davis Cup 'screwed up' as tennis legend takes aim at Gerard Pique like Wawrinka[REVEALED]
We use your sign-up to provide content in ways you've consented to and to improve our understanding of you. This may include adverts from us and 3rd parties based on our understanding. You can unsubscribe at any time. More info
"However, in Zumba, it is the opposite. It doesn't matter if you make a mistake, you let yourself be carried away by the music and your emotions come to the foreground."
Despite enjoying her time away, Muguruza does have her sights on a return to the sport in the near future. "I'm enjoying this sabbatical, I think it's good to stop but it's not a definitive goodbye," she said while speaking at the Chamartin Tennis Club after receiving a Gold Medal for Sports Merit.
"I want to prepare myself to come back, when I'm ready I'll go back to the courts."
Source: Read Full Article