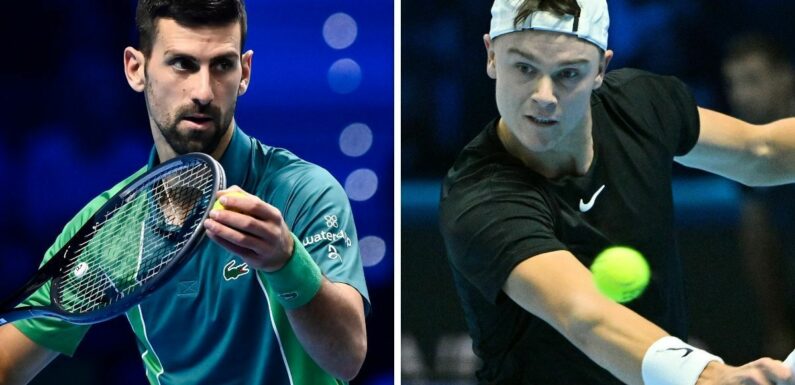 Holger Rune has weighed in on Novak Djokovic's chances of winning the ATP Finals after failing to eliminate him from the tournament. The world No 8 was just two games from beating Jannik Sinner on Thursday night, a result that would have sent Djokovic home. Instead, it was the Italian who came through, keeping the top seed in the contest. And Rune now believes Djokovic can lift the title.
Rune's ATP Finals debut came to an end on Thursday night as he narrowly lost his third and final round-robin match with Sinner coming through 6-2 5-7 6-4. Sinner had already qualified for the semi-final ahead of their clash while the 20-year-old had a chance to join him if he won the match, something that would have stopped Djokovic from getting out of the group.
The world No 8 had a break point at 4-4 in the final set but failed to win another game as Sinner saved it and secured a break of his own, closing out the victory. It meant that Djokovic advanced to the semi-final as the second-place player of the Green Group. With his defeat keeping the world No 1 alive, Rune now believes Djokovic is the favourite to win the tournament. 
"I wish the rest of the players good luck at this event," the four-time title winner said. "It's going to be exciting to see who is going to lift the trophy. Obviously there is Novak, is still the favourite, I would say."
Click here to join our WhatsApp community to be the first to receive breaking and exclusive tennis news.
Just in Andy Murray calls out CEO for 'unfair' comment about ATP Finals star Tsitsipas[LATEST]
As well as the six-time former champion, Rune also thought the other two players with guaranteed semi-final spots – Sinner and Daniil Medvedev – also had a shot at the crown. He added: "Jannik, Daniil, whoever qualifies as the second from the other group, is going to have a good chance. It's going to be good to see. I'm just going to take some rest and start my pre-season."
Djokovic is yet to react publicly after advancing to the semi-final, as his fate was left in Sinner's hands when he stepped off the court on Thursday afternoon. The 36-year-old defeated Hubert Hurkacz in three sets in his last round-robin match but, by dropping a set, he was left to wait for the result of Sinner vs Rune to see whether he would survive.
Ahead of their match, the world No 1 said:  "I don't know what Jannik is thinking about. Obviously knowing he has qualified even before he enters the court, I think it's a big relief. Knowing him, he's going to try to win every match that he plays. He's playing great. Rune, on the other hand, is playing great, too.
Support fearless journalism
Read The Daily Express online, advert free
Get super-fast page loading
Don't miss…
ATP Finals star Sinner using F1 doctor to help him topple Djokovic and Alcaraz[QUOTES]
ATP Finals umpire gives crowd ultimatum as Rune booed after unusual review[RECAP]
Novak Djokovic shares big Rafael Nadal wish as Spaniard gives promising update[REACTION]
"It will be an interesting matchup because they are same generation, more or less. Yeah, they are big rivals. I think that's the kind of rivalries we're going to see in the future. I'm sure they don't want to lose against each other in any event, particularly this big. Let's see what happens."
But it was Sinner who got his first-ever win over Rune in their third meeting. With Djokovic coming in second place in the Green Group, he will face whoever wins the opposing Red Group, which could be Daniil Medvedev or Carlos Alcaraz.
Source: Read Full Article