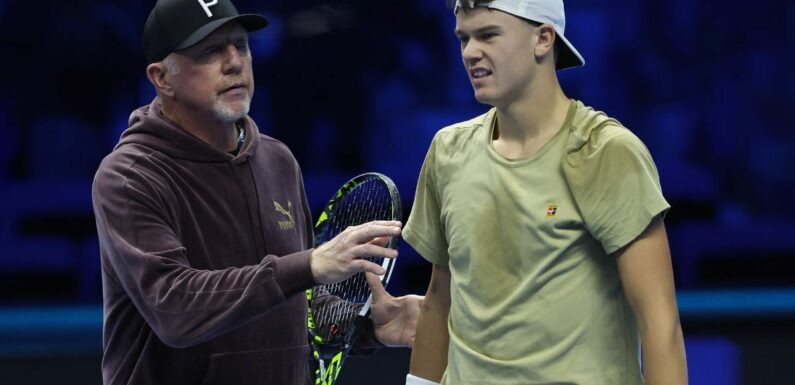 Boris Becker and Holger Rune have opted to extend their partnership into the 2024 season after enjoying success in their trial period. The German helped the 20-year-old turn things around after a difficult few months and guided him to his debut at the ATP Finals – their main goal when they started working together. He will now remain part of Rune's team despite making a harsh comment when comparing his charge to Novak Djokovic.
Rune's agent and mother Aneke has confirmed that the world No 8 will continue working with Becker in the 2024 season. The pair linked up in October after a difficult spell for Rune, who went 1-6 in matches between Wimbledon and Basel. Their partnership had immediate results, with Rune reaching the Swiss Indoors semi-final.
He followed it up by getting to the quarter-final of the Paris Masters and going on to achieve his biggest aim for the end of the season – qualifying for the ATP Finals where he ultimately went 1-2 in round-robin matches. Becker was in Rune's box throughout the three tournaments, often rising to his feet to cheer on the young star, so it comes as no surprise that they will continue together.
"We are looking forward to continuing the good work in the pre-season and 2024 with our team, with whom we will also end the year," Aneke told Ekstra Bladet. "I am delighted that we have found a good set-up where Holger is happy and can develop so that we can once again set goals and aim to win Grand Slams."
Click here to join our WhatsApp community to be the first to receive breaking and exclusive tennis news.
Just in Sinner reaches first ATP Finals final by downing Medvedev for 10th straight win[LATEST]
The confirmation comes just days after Becker admitted that the four-time title winner was still nowhere near Djokovic. The 55-year-old previously coached the world No 1 from late 2013 to late 2016, guiding him to six of his 24 Grand Slam titles. Rune and Djokovic faced off for the fifth time on day one of the tournament in the round-robin stage.
It was the 36-year-old who narrowly came through 7-6(4) 6-7(1) 6-3. While Rune put on a good showing, Becker admitted there was still a long way to go before the world No 8 could compare – even though he had beaten Djokovic twice in the past.
"Rune and Djokovic are like night and day," said Becker, according to Ubitennis. The six-time Major winner admitted that the biggest challenge for Rune would be to get close to Djokovic and, now that he is staying in team Rune, he will look to help him do just that.
Support fearless journalism
Read The Daily Express online, advert free
Get super-fast page loading
Don't miss…
Nick Kyrgios offers to 'fly to Rublev' and help after star bloodied his knee[QUOTES]
Andy Murray withdraws from Davis Cup showdown against Novak Djokovic's Serbia[UPDATE]
Nick Kyrgios accused of 'doing me dirty' by doubles partner[REACTION]
Explaining the difference between coaching the two men, Becker added: "When I started with Novak he was 25, 26 years old, and he was already a champion, but he had lost the position to Nadal. So he needed to rediscover himself to get back to No 1, win more Slams. It was a different challenge, when you already have everything you have to finish the last things.
"Holger has just made two Slam quarter-finals, he's at the very beginning of his career. He's twenty years old, he's the youngest player here. Novak said on Sunday evening that he played against his mirror image of him, and it is a huge compliment. But Holger has to get closer to Novak, it's the biggest challenge."
Becker will now help Rune navigate those challenges in the 2024 season, and could be the last piece of the puzzle to help the 20-year-old break new ground at a Grand Slam by getting to a semi-final.
Source: Read Full Article