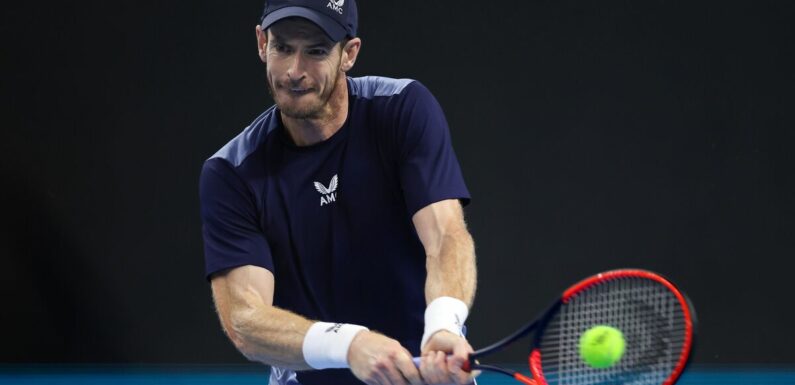 Andy Murray is set to return to competition in Basel next week with time running out this season. The Brit is defending just 55 ranking points until the end of the year and has the opportunity to build up his ranking in an effort to be seeded for the Australian Open come January. But Murray is currently on a three-match losing streak, meaning he will have to start winning now or miss out on the chance to climb back up the rankings.
Murray had a disappointing Asian swing, winning just one match across three events. After getting through his opener in Zhuhai he crashed out to Aslan Karatsev before suffering first-round defeats in Beijing and Shanghai. The world No 39 is now expected to play the Swiss Indoors Basel, the Paris Masters and the Moselle Open before the end of the year.
12 months ago, the final stretch of the season was a difficult one for Murray as he won just one match in Basel and lost in the opening round in Paris. It means that even just a couple of wins for Murray at each event could make a huge difference to his ranking as the Brit bids to enter the top 32 before January's Australian Open so he can be seeded.
Currently ranked at No 39 in the world, Murray has 45 points to defend in Basel from winning a match last year and 10 in Paris that he received for playing in the opening round. With his last tour event of the year – the Moselle Open – ending on November 11, the 36-year-old has less than a month to string together some wins in a bid to boost his ranking.
Click here to join our WhatsApp community to be the first to receive breaking and exclusive tennis news
Just in Holger Rune teases Boris Becker rumours as Dane lifts lid on 'tips' from coach[LATEST]
But it will be easier said than done for Murray, who is out of form coming into the European indoor swing following some tough losses in Asia. The three-time Grand Slam champion had a difficult draw at the China Open in Beijing, where the field was so strong that he was the lowest-ranked man to make it into the main draw without a wildcard, a qualifying run or a special exemption.
Murray faced Alex de Minaur in his opening contest and had three match points in the final set, serving for the win before he was dragged into a tiebreak where it was the Australian who just edged him. The Brit then ran into a red-hot Roman Safiullin in Shanghai.
We use your sign-up to provide content in ways you've consented to and to improve our understanding of you. This may include adverts from us and 3rd parties based on our understanding. You can unsubscribe at any time. More info
Don't miss…
Rafa Nadal comeback timeframe mooted after shutting down Australian Open claims[EXPERT]
Wimbledon champ questioned whether win was a 'mistake' after different treatment[QUOTES]
Boris Becker playing coy over coaching rumours despite 'daily contact' with star[REACTION]
Safiullin came in off the back of reaching the Chengdu Open final and cracking the world's top 50. He brushed Murray aside with a 6-3 6-2 win and followed it up by upsetting ninth seed Alexander Zverev. While some difficult draws certainly haven't helped the former world No 1, he will need to navigate even the trickier matches moving into the European indoor swing if he wants to push his ranking up towards the top 32.
And it will be a crucial time to gain some ranking points while he has barely any to defend. When the 2024 season begins, Murray will then be defending points from a run to the third round of the Australian Open and a finals appearance in Doha. If he gives himself a cushion now, it will take the pressure off when he returns to the tournaments he enjoyed success at earlier this year.
Source: Read Full Article