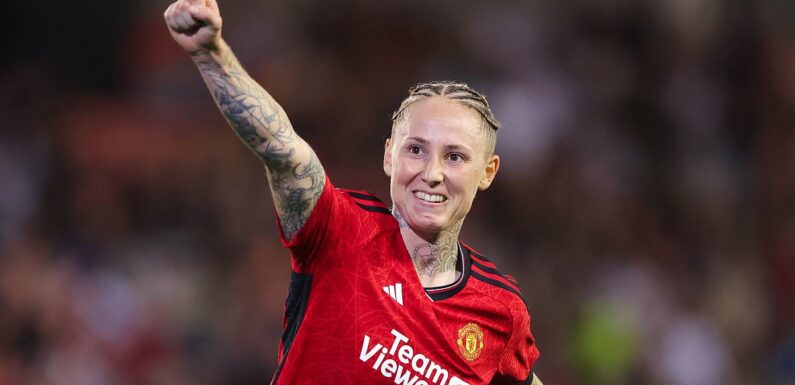 Leah Galton is adored by Manchester United fans and considered one of the world's best wingers… but she doesn't get the same exposure as her team-mates who play for the Lionesses – despite being just as valuable
Galton has always prioritised a balance between playing and time to herself
That means Man United star has cherished international breaks to take a pause
Aaron Ramsdale's dad has every right to support his son – It's All Kicking Off 
Leah Galton has long been a fan favourite at Manchester United.
The forward is one of a few players who has been there since the club reformed in 2018 and has consistently delivered goals and assists each season.
Last campaign she finished as United's joint top scorer with 10 goals and she has had another strong start this term.
But while Galton's name is regularly sung from the stands by United's supporters, her importance to the club is perhaps overlooked.
The forward does not get the same exposure as her United team-mates that play for the Lionesses, despite being just as valuable.
Leah Galton has been a Manchester United mainstay since the club reformed back in 2018
United coach Marc Skinner considers Galton one of the best wingers in world football
Galton has always turned down approaches from England to play for the Lionesses 
Your browser does not support iframes.
Galton rejected a call-up to the England squad over three years ago because she said she was not in the right place to be considered for international football.
The 29-year-old took time out from the game in 2018 and explained that she had to 'fall back in love' with it when she joined United.
'To be honest right now I think it's hard because I really am getting my balance right,' Galton said earlier this year.
'I'm not going away on camp so I'm getting time off and I'm getting time to be a normal person in that sense and have time with my family and go on little overnight stays with my little family so I think that's where I'm getting the balance right.
'Obviously it's always nice to hear that England are asking where your head is at and stuff which is so nice because you see the talent of the players and the girls there to be compared to that.'
Galton is out of contract with United at the end of the season and tying the forward down to a new deal should be seen as a priority.
She is one of the first names on manager Marc Skinner's team sheet and will be key to United sustaining another title challenge this season.
'Leah Galton is one of the best wingers in the world, in my opinion,' Skinner said in an interview with Sky Sports earlier this year.
Galton in action during United's 5-0 Women's Super League win over West Ham last Sunday
Galton has always been a popular figure among supporters of the United women's side
'For the simple reason being that I've seen her almost telegraph what she's going to do and you can't stop her. She is the most humble, hard-working, a power athlete that has so much wonderful quality and control in what she does.'
United take on rivals City in what will be the first Manchester derby at Old Trafford on Sunday afternoon. 
Many of the fans in attendance will be going to watch the England players on both sides – but many in United shirts will be just as excited to watch Galton and indeed the other non-England players for their team.
Galton may be seen as the unsung hero of this United side but her name will continue to be chanted loudly from the terraces.
IT'S ALL KICKING OFF! 
It's All Kicking Off is an exciting new podcast from Mail Sport that promises a different take on Premier League football.
It is available on MailOnline, Mail+, YouTube, Apple Music and Spotify.
Your browser does not support iframes.

Source: Read Full Article