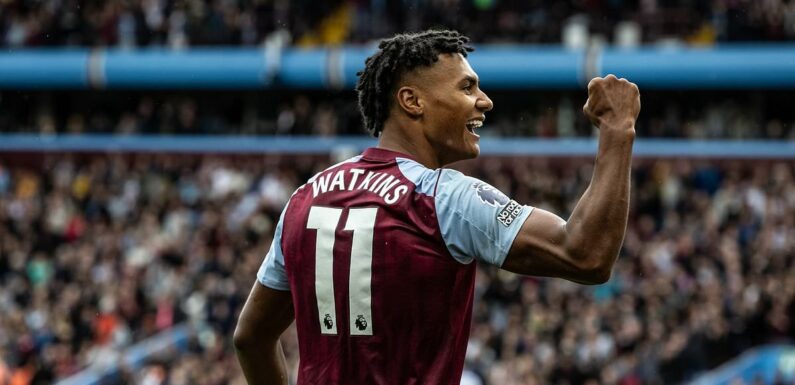 Ollie Watkins happy to keep out of spotlight with the Aston Villa forward wanting his goals to do the talking to remain in contention for Euro 2024
Ollie Watkins is in line to earn his eighth England cap against Australia on Friday 
The Aston Villa striker was recalled to the squad after a run of goalscoring form
Listen to the latest episode of Mail Sport's podcast 'It's All Kicking Off!'
Ollie Watkins fears a lack of celebrity status has made his career progression more difficult.
The in-form Aston Villa striker, recalled to the England squad after an 18-month absence, is in line to win his eighth cap against Australia on Friday and is keen to make up for lost time, having missed last year's World Cup.
The 27-year-old is not an Instagram darling with a famous girlfriend or podcast, but hopes the old-fashioned trick of scoring goals will be enough for him to stay in Gareth Southgate's plans for Euro 2024.
'I go under the radar, I'm not talked about enough profile-wise,' he says. 'I don't know if it's because of Villa. You get some players who are popular and out there. I'm not too fussed, I just like playing football. People have told me I need to push my profile but I'm just happy with what I am doing on the pitch.
'The bigger you are, the more you are in the spotlight. It's not that I don't want that, but if I am playing well it should come naturally.
Ollie Watkins is in stunning form after scoring seven goals in 13 matches for Aston Villa
Watkins is in line to win just his eighth cap for England when they play Australia on Friday
Your browser does not support iframes.
'I don't really push the social media side. A guy in my agency is always saying to post more on Instagram but I wouldn't want to put anything out there that's not authentic.
'If I'm scoring 30 goals a year and someone wants to do a sponsorship deal, they will because I'm doing well on the pitch. I've done an M&S campaign and my two-year-old daughter recognised me, but I am content if the fame and followers come, or not.'
Watkins timed his run into this England squad by following up a winner at Chelsea with a hat-trick against Brighton in front of Southgate. His return to form has coincided with Unai Emery replacing Steven Gerrard as manager at Villa Park and he has just signed a new five-year contract.
Watkins' journey has been via Brentford and Exeter rather than a glitzy Premier League academy. While insisting he is not shy, he does not seem to naturally enjoy the limelight.
'Someone like Jack (Grealish) is on another level, he's like a superstar,' he explains.
'When I was at Brentford, I used to go and shop in Sainsbury's as normal. I tried to do it at Villa and couldn't. I had earphones in and people would say, "Is that him?". When I see people have clocked me, normally I try to avoid it. Not because I don't want to interact but, once one person asks for a photo, others follow and it's hard to do the shopping.
'I'd come home fuming and said to my missus she will have to do the shop. Since then, I haven't!
'I wouldn't say I was the loudest in the room. It takes me a while to warm up. I am comfortable in my own skin and I'm OK with silence. I can sit at a table and listen. It doesn't mean I am shy or boring, just calm.'
Watkins has thrived under Unai Emery, left, and signed a new Aston Villa contract this month
The Villa star will compete with Callum Wilson and Ivan Toney to be Harry Kane's understudy
Watkins admits fans can be fickle after silencing critics when he scored against Chelsea
Watkins knows it will be some time before Harry Kane is dislodged as England's main striker, but is in a group with Callum Wilson and Ivan Toney competing to be his main understudy.
After five goalless games to start this season's Premier League, he greeted his strike at Stamford Bridge by putting his fingers in his ears as a response to critics. Less than a month later he is back with the England elite.
'It's crazy how quickly things change in football,' he admits.
'I didn't get called into September's international camp, then I score four in two games and it gets people talking. As a striker, people will say you are on a drought if you don't score for a few games. Fans are quite fickle.
'Since this manager has come in, I have scored more consistently.
'He is very demanding every day. Then again, I've always put pressure on myself.
'If I miss a chance, I can pick at it.'
IT'S ALL KICKING OFF! 
It's All Kicking Off is an exciting new podcast from Mail Sport that promises a different take on Premier League football, launching with a preview show today and every week this season.
It is available on MailOnline, Mail+, YouTube , Apple Music and Spotify
Your browser does not support iframes.
Source: Read Full Article