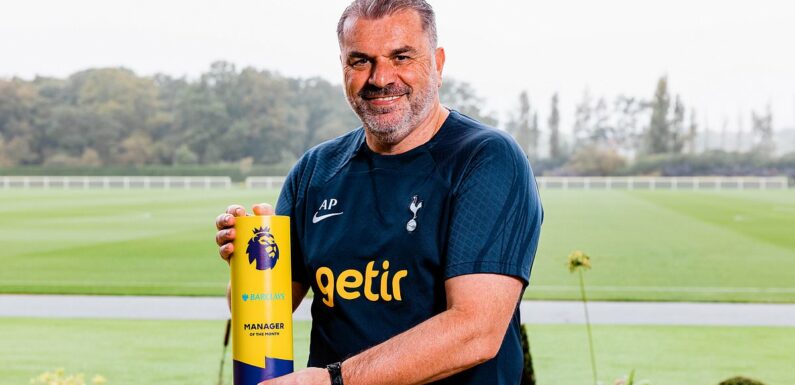 Tottenham win Player and Manager of the Month awards… again! Premier League leaders make history by claiming both trophies for the opening two months of the season for the first time ever while Ange Postecoglou grabs a first of his own
Tottenham have made a brilliant start and are top of the Premier League table
Nobody has ever won both Manager of the Month in their opening two months
Listen to the latest episode of Mail Sport's podcast 'It's All Kicking Off!' 
Ange Postecoglou became the first manager in Premier League history to win Manager of the Month in his opening two months in charge. 
The popular Australian has taken English football by storm since taking charge this summer, leading to successive gongs with Tottenham top of the table. 
While Postecoglou is two from two after a fine start, the last manager that won the first two awards of any season was Jurgen Klopp in 2019-20, when Liverpool went on to lift the Premier League title.
The history did not stop there for Spurs as Son Heung-min's Player of the Month gong made it the first time in history that the north London side have won both player and manager of the month awards in the first two months of the season.
Son, who last won the award in October 2020, now has four of them, seeing him match Alan Shearer, Thierry Henry, Dennis Bergkamp, Frank Lampard, Paul Scholes, Mohamed Salah, Marcus Rashford, Bruno Fernandes and Jamie Vardy. 
Ange Postecoglou is the first boss in Premier League history to win Manager of the Month in his first two months managing in England's top flight, with Tottenham top of the league
Captain Son Heung-min joined him by being crowned Player of the Month for September
Your browser does not support iframes.
'Just want to say thank you to everyone who voted for me,' Son said in a video message while he's away on international duty with South Korea.
'We want to keep up our good form and I can't wait to see you all at our next game against Fulham.' 
Son has looked back to his best in recent weeks. 
He scored a hat-trick at Turf Moor in the rout of Burnley, bagged a brace in the north London derby, and the opening goal in Spurs' first win over Liverpool since 2017. 
His award follows that of team-mate James Maddison, who thrived from the get-go after joining Tottenham from relegated Leicester City in the summer. 
Son's gong follows on from team-mate James Maddison winning August Player of the Month
Maddison provided two assists on his Tottenham debut in a 2-2 draw against Brentford. 
He then featured in a 2-0 victory over Manchester United before scoring in a 2-0 success against Bournemouth.
His good form then continued into September with a goal in a 5-2 win against Burnley. 
Maddison became the first Tottenham player to win the award since Harry Kane in March 2022. It is now the first time ever the same club has won both manager and player awards across the opening two months of a season. 
Postecoglou toasted his August Manager of the Month award along with his backroom staff
IT'S ALL KICKING OFF! 
It's All Kicking Off is an exciting new podcast from Mail Sport that promises a different take on Premier League football.
It is available on MailOnline, Mail+, YouTube, Apple Music and Spotify.
Your browser does not support iframes.
Source: Read Full Article