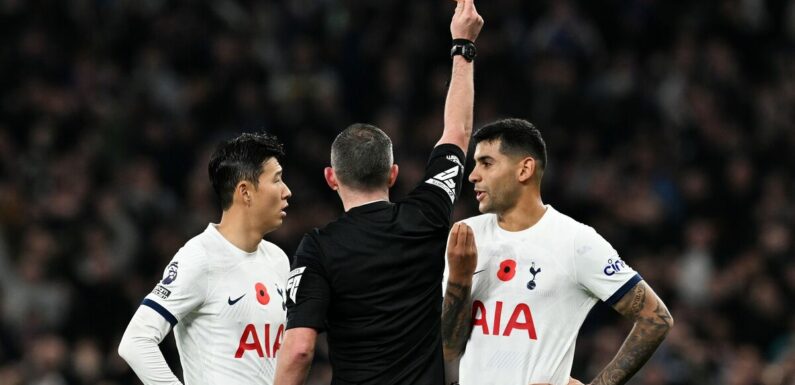 Tottenham defender Cristian Romero has been blamed for his side's defeat to Chelsea on Monday. The Argentina defender was sent off in the first half and Ally McCoist claimed he let his Spurs side down.
Chelsea won 4-1 at the Tottenham Hotspur Stadium but that doesn't even tell half the story. Nicolas Jackson scored a hat-trick in the final 15 minutes of the match to end Spurs' unbeaten start to the Premier League season.
Tottenham had led 1-0 before Romero was sent off for a high tackle on Blues midfielder Enzo Fernandez. VAR recommended an on-field review and referee Michael Oliver deemed it to be serious foul play.
Cole Palmer scored the resulting penalty to put Tottenham firmly on the back foot. Destiny Udogie was then sent off early in the second half to put Chelsea further in control.
Read more… Man Utd 'agree' Mason Greenwood return stance as Anthony Martial nears exit door
The hosts continued to adopt a daring style of play despite being down to nine and initially frustrated their opponents. But Chelsea finally broke through with Jackson and the floodgates opened late in the match.
Former Chelsea midfielder Andy Townsend has since hit out at Romero on talkSPORT, claiming he could 'ruin' Spurs' season. Townsend said: "I want to hear from Tottenham fans this morning, obviously in particular, with regards to Romero. I'm sure they love him because all the fans love a kind of cult hero type player.
"But he's going to… he's capable of ruining a season, him, if you're not careful. Because he's been playing outstandingly well in that partnership with [Micky] Van de Ven but he's got this thing in him that he just goes in a split second."
Rangers legend McCoist was presenting the radio show alongside Townsend. And he added to the verdict on Romero, replying: "I think he let his team down, Andy."
Advert-free experience without interruptions.
Rocket-fast speedy loading pages.
Exclusive & Unlimited access to all our content.
Don't miss…
Lee Sharpe opens up on life as a pro golfer after winning seven trophies Man Utd[EXCLUSIVE]
Man Utd agreement with Mason Greenwood one of four options to replace Martial[OPINION]
Guardiola reacts to Arsenal boss Arteta's ref fury as he admits to 'confusion'[QUOTES]
Jamie Carragher was also critical of Romero during his analysis of the tackle on Sky Sports. The former Liverpool star said: "Yes, absolutely ridiculous. To put a challenge like that in the penalty box.
"That's a challenge I would have made 20 years ago. Those days are well gone. Those days have gone by saying I won the ball first and I couldn't control myself afterwards. He was out of control, excessive force, definite red card."
Romero is now set to miss Tottenham's next three matches. They face Wolves this weekend before matches at home to Aston Villa and away to Manchester City after the international break.
Spurs boss Ange Postecoglou had no complaints about the decision. He said: "[Romero's] a physical guy. It's a part of his strengths and today it was deemed he went too far and we've just got to cop it."
Source: Read Full Article